The Grapes of Death
(1978)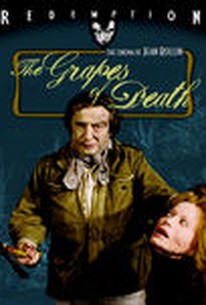 AUDIENCE SCORE
Critic Consensus: No consensus yet.
Movie Info
The horrific underbelly of the winemaking business is exposed in this ghoulish thriller. After disembarking from her train, Élisabeth (Marie-Georges Pascal) stumbles upon a bucolic vineyard in a small town and decides to spend a few days exploring the countryside. Soon, however, her idyll turns into a nightmare when she finds out that a pesticide applied to the local harvest contains chemicals that turn whoever drinks the wine into the undead.
Rating:
NR
Genre:
Directed By:
On DVD:
Critic Reviews for The Grapes of Death
There are no critic reviews yet for The Grapes of Death. Keep checking Rotten Tomatoes for updates!
Audience Reviews for The Grapes of Death
I doubt the writers and director had any idea what exactly a zombie is when they went forward with this film!
Juli Norwood
I've seen so many zombie movies that I sometimes forget that there are so many I HAVEN'T seen yet. This film was a major omission in my exploration of both zombie films and 70s "Eurotrash" (which I say with reservations about that somewhat derogatory). It has also made me realize that I MUST see more Jean Rollin films. There is very little dialogue in this film and the plot is meager to say the least. Basically, people are turning into zombie-like creatures (they don't seem to actually be dead, just batshit crazy with rotting flesh) because they have drunk the local wine grown from grapes sprayed with some new pesticide. Besides the pesticide detail, however, this does not at all fall into the 70s "environmental horror" genre. It is, rather, pure visual Gothic. This isn't a movie you watch for the sparkling dialogue or the twisting plot or the great action (though there are a few brief but effective gore sequences). But visually I was totally mesmerized by this film, as I was by The Living Dead Girl (the only other Rollin film I've seen). The tableaux of death and suffering Rollin creates -- particularly using fragile blond women -- straddle the line between porn and high art, and you can't look away. There is one blond waif in particular who is blind (you can see her on the DVD cover) with piercing blue-white eyes whose groping despair and eventual demise I will not soon forget. I'm being a very bad feminist (and yes, I am a female reviewer and a feminist) but... what can I say? It's a really visually interesting film that visually imagined the kinds of landscapes, characters, and deaths that you find in 18th and 19th-C Gothic fiction. So what about the zombies? What do they represent in this film? Not much beyond the inevitability of decay and perhaps insanity. In make-up and demeanor they are definitely very Night of the Living Dead-like but not terribly scary. What's scary about this film, I think, is the horror inherent in small close-knit groups (community, family). There was definitely some subtext about the way that abuse tends to be close to home, so perhaps the zombies represent some kind of decay of older social structures and the horrors of intimacy. Recommended for fans of Rollin, Franco, Argento, and Bava (reminded me a bit of Kill Baby Kill!).
Baumann, Rebecca
The Grapes of Death Quotes
There are no approved quotes yet for this movie.
Discussion Forum
Discuss The Grapes of Death on our Movie forum!