The Gray Man
(2009)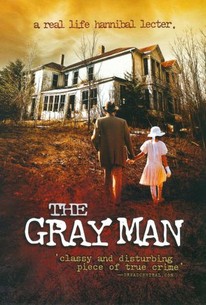 AUDIENCE SCORE
Critic Consensus: No consensus yet.
Movie Info
The story of one of America's most reviled yet little-known serial killers comes to the screen in this true crime thriller tracing the hunt for Albert Fish. When ten year old Grace Budd's parents allowed their daughter to attend a children's birthday party with a grandfatherly old man named Albert, they never suspected it would be the last time they saw their little girl alive. Six years later, authorities were finally able to capture Fish and hold him accountable for Grace's kidnapping, but the horrors they discovered soon thereafter would come as a shock to even the most hardened inner-city police detective. This is the story of a monster in a man's body, a bloodthirsty cannibal whose frail and kindly appearance belied his sickening true nature as the most nightmarish predator imaginable.
Critic Reviews for The Gray Man
There are no critic reviews yet for The Gray Man. Keep checking Rotten Tomatoes for updates!
Audience Reviews for The Gray Man
Unlike the trend of real serial killer movies (ie BTK, Ed Gein, Gacy, et al) this one is not only a mature, serious work it is also surprisingly (and thankfully) restrained in its approach to the material since Albert Fish was a child molester/cannibal. But understand this is not a horror movie or a thriller; it's more of a psychological drama about the last few years of this sick individual and the cop who is determined to arrest him.
A.D. Villarreal
Super Reviewer
½
The Gray Man folows the story of what some believe to be one of the most insane and sick killers of the 20th century Albert Fish who from the outside looked like anyones kindly old grandfather but inside was a very disturbed man and this film gives pretty good insight into that mind and also his kidnapping and killing of alittle girl by the name of Grace Budd and how his own family reacts to his arrest and sentencing. One of the better movies ive seen come out about a real life serial killer well acted and directed anyone that is into these kinda movies should see this one as i highly recommend it.
"Albert Fish is the man who some believe to be the "most deranged killer in American history" (Rampo Catskill Library system, Biography resource center, Albert Fish ). So much so, that the character, Hannibal Lector in the movie Silence of the Lambs is partially based on him. Murder was not the only thing that Albert Fish indulged in. He also dabbed in cannibalism, fetishism, pedophilia, voyeurism, exhibitionism, and masochism." - allserialkillers.com
- Albert Hamilton Fish, AKA the Gray Man Personally, I also agree with the source above. Albert Fish is by far, one of the most deranged serial killers in American history. The movie, The Gray Man, tells his story. Over the years there has been a string of true crime, serial killer based movies, all for the most part shown in graphic detail. Among my favorites are Ted Bundy (2002), Ed Gein (2000), The Hillside Strangler (2004), Dahmer (2002), and Helter Skelter (2004). I'm now adding The Gray Man to that list. I would have to say The Gray Man is definitely the least violent out of all these films, hell, there's nothing really that graphic at all. Visually we don't see any gore, or any gruesomeness of the murders, but what this movie implies is just as horrifying as anything you can imagine. A lot is off-screen, but we hear of the aftermath in horrifyingly explicit detail, things that may make your stomach turn. Of course the film doesn't cover all basis of Albert Fish, and I wish it would have, but then I'd be asking for a nine hour miniseries. It gives just enough to explain the horrors that this sick man endured, and inflicted on others, letting it known that anything, no matter how evil it is, can be possible. I wish the movie gave more of a background on Albert Fish, yes they showed a glimpse, a faint idea of why his childhood might have corrupted him, but I was hoping for a detailed story on his upbringing. Something much more. Something to help me better understand his evil ways, and not that it would be excusable because it's not, but I would like to believe maybe some people, no matter how evil, could have had a chance. But maybe it's inevitable. Perhaps he did have all the support he needed, maybe plenty of them did, it could be that you're just born fu*king evil. They focused on a small portion of Fish's life, mainly his later years and immediately into the murders, close to when he was finally arrested. Actor Patrick Bauchau, who plays Albert Fish, couldn't have done a better job, nor could they have cast anyone better. His performance is horrifying, to say the least. It creeps under your skin. The movie is very low budget, so there's nothing here that's groundbreaking. It's actually a lot cheaper than the other killer-based movies that I mentioned before. But for such a low budget they did a fantastic job, and being that this is the only movie thoroughly based on Albert Fish, I wish they would've had more money to go all out on this one. I have to say though, with that much money they did a fantastic job at brining the 1930's to light, and production value was pleasantly surprising, the scene of New York City was quite impressive. Performance wise, other than Patrick Bauchau, was decent. Wasn't bad, but it wasn't the greatest either. Again, this wasn't shot with the biggest budget, nor was anyone big involved, so spending money on bigger names and film stock is limited, which means less takes and you would have to move along a lot quicker. Without the right production company to back you up in this case, things could be a bit complicated. But the director, Scott L. Flynn, surely did the best he could with what he had, and the outcome was great. He made himself a great little film, one that's scary and disturbing on every level. I highly recommend this film to those who are fans of true crime, and for horror fans as well, cause there's nothing scarier than the truth.
"I like children, they are tasty" - Albert Hamilton Fish
jd cryptic
Super Reviewer
The Gray Man Quotes
There are no approved quotes yet for this movie.
Discussion Forum
Discuss The Gray Man on our Movie forum!