The Heavenly Body
(1944)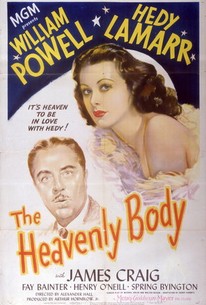 AUDIENCE SCORE
Critic Consensus: No consensus yet.
Movie Info
In this light romantic comedy, William B. Whitley (William Powell) is an astronomer who is very excited about his latest discovery, a comet that has been named after him. However, Whitley has been so busy tracking the course of his comet as its path leads straight into the moon that he's been ignoring his new wife, Vicky (Hedy Lamarr). Bored and lonely, one day Vicky visits an astrologer who informs her that she will -- on a specific day -- meet a handsome stranger, and they will fall in love. A bit perplexed at this news, Vicky shares the astrologer's report with William; however, he's so appalled that she would waste her time on pseudo-scientific hooey like astrology that he storms out of the house, moving into his observatory for a few days. On the predicted day, Vicky is wondering what happened to her dream man when an air raid warden, Lloyd Hunter (James Craig), shows up to confront Vicky and ends up going inside her house and shutting off her lights. Vicky and Lloyd strike up a conversation, and she begins to realize that he could well be the man the astrologer predicted she would meet; Vicky is interested in him, but just as he's leaving, William returns. William, however, senses that Vicky is infatuated with Lloyd, and he quickly hatches a devious plan to win back her good graces.
Audience Reviews for The Heavenly Body
Hedy ravishing, Bill Powell as adroit as ever, script about what you'd expect but well played.
The Heavenly Body Quotes
There are no approved quotes yet for this movie.
Discussion Forum
Discuss The Heavenly Body on our Movie forum!