The Land Before Time XII: Great Day of the Flyers
(2007)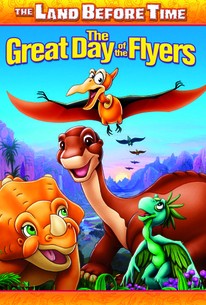 AUDIENCE SCORE
Critic Consensus: No consensus yet.
Movie Info
The Day of the Flyers celebration is fast approaching, and as Petrie the pterodactyl prepares to master the art of flight the stage is set for a prehistoric adventure that will delight viewers of all ages. Soaring the skies just isn't as easy as some dinosaurs make it appear to be, but thankfully for Petrie a little help is soon to arrive in the form of a kindly creature named Guido. Ducky, Spike, Littlefoot, Cera, and, of course, Petrie, all return for the twelfth chapter in the long-running Land Before Time series.
Audience Reviews for The Land Before Time XII: Great Day of the Flyers
Fvgvghuuiyuyuiyuihyugygyughuyhiyhuihuhihhiuhiuhuihulhiuhiuhuiuuiuiuhihuuuuiuiuuiuhhuiuiuuuiuyiuuuuiuuiuuuuiuiuuuiiuuiuihuihuhiuuuiuiuiuiuhiuuuiuiuhyiyuhuoyuyiyiyuuyiyiyuiyuipyiuyiuiuyiuyiuyuiyiyuyglyughuiiygugiu Uguuyuiuihhiuuhiiuhiuhiuhiuhiuhhuyygyuguygugghguygyugyugyuguyuuyuujhuhuoyuhhuhhjhjhhuhjhuhhjjhhhiuhjhihihkjiuhkjkhihhjujojkkjkuhjjhihkjhkjjiiiuiououol . Ijioukiuiiuiiuijiuiiuiiuuoiuoioiuuiouoiouioiuuoi Hhhuhhhhhhhhhhuuuiuuuuiio TyiugityftdawAsfdhbojinbzscsnfmkll Yuggguhgvb
Dustin Steelman
awesome!!!! better than the first movie. if you give me a option of the movies I would pick this one, and I bet that you will like it too. I'll give this movie a 100 stared movie!!!!!!!!!!!!!!!!!!!!!!!!!!!!!!!!!!!!
Aislinn Rohrbaugh
Another film, another new character to force a plot along. Luckily the new character is very likable and given a neurotic Woody Allen demeanor. This adds some charisma to the usual mind-numbingly repetitive formula. The animation is starting to pick up a bit and is generally calming to look at.
Luke Baldock
Super Reviewer
The Land Before Time XII: Great Day of the Flyers Quotes
There are no approved quotes yet for this movie.
Discussion Forum
Discuss The Land Before Time XII: Great Day of the Flyers on our Movie forum!