The Least of These
(2008)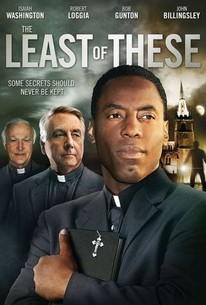 AUDIENCE SCORE
Critic Consensus: No consensus yet.
Movie Info
An African-American priest unearths evidence of a murder after being transferred to a small Catholic boarding school, and risks everything in order to set things right at the troubled academy. When a respected priest goes missing at Allentide, Father Andre James (Isaiah Washington) returns to the school he attended as a boy as a member of the staff. Now the more Father James learns about the murder, the more he begins to suspect foul play. Later, as the sordid details of the mystery slowly come into focus, the conflicted priest realizes that he'll have to face the secrets of his own past before he can reveal his shocking findings.
Critic Reviews for The Least of These
There are no critic reviews yet for The Least of These. Keep checking Rotten Tomatoes for updates!
Audience Reviews for The Least of These
At a small Catholic High School in Connecticut, everyone knows everyone elses business. One priest has mysteriously disappeared, while another has come to take his place. That priest is former student, Andre James (Isaiah Washington), who from the very beginning knows he isn't entirely welcome at his old school, which he comes to find holds many old secrets. I'm always a bit weary of films that are centered on religion, because if isn't done just right the film is ruined. If there isn't enough of a religious angle, the film isn't believable, but if there's too much, it feels like you're being converted. The Least of These manages to strike a perfect balance, as religion is a part of the story, but it doesn't dominate every aspect of the film. The true heart of this film is in it's mysteries, such as what happened to the old priest and what's this new guy all about? Isaiah Washington stars in what turns out to be the first serious role I've seen him play, and he is outstanding. Father James is battling his own demons and for all the good he wants to do, a part of him doesn't feel entirely comfortable in his new surroundings. Quite ingeniously, Washington is able to portray this not through words, but through his demeanor, which changes as the story progresses. Washington is paired with Jordan Garrett who is always very likeable no matter what type of character he is playing. It doesn't matter if he's playing an evil kid on Law & Order or the innocent victim in Death Sentence, Garrett somehow always manages to connect with the audience and get them pulling for his character. In this film, he plays an introverted outcast, who seems to be devastated by the disappearance of Father Collins. After connecting with Father James, the boy opens up and becomes yet another mystery of the old school. The Least of These was pretty entertaining and I suspect that a lot of the bad user reviews come from people who didn't make it through the whole film. I agree that it starts out slow and takes forever to get moving, but once it does, it really is a terrific story told by a stellar cast.
Todd Smith
Super Reviewer
The Least of These Quotes
There are no approved quotes yet for this movie.
Discussion Forum
Discuss The Least of These on our Movie forum!