The Legend of Lizzie Borden
(1975)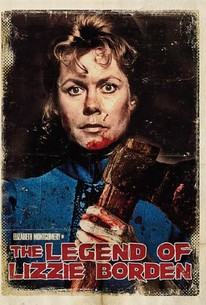 AUDIENCE SCORE
Critic Consensus: No consensus yet.
The Legend of Lizzie Borden Photos
Movie Info
"Lizzie Borden took an axe/And gave her mother forty whacks/When she saw what she had done/She gave her father forty-one". New England spinster Lizzie Borden was acquitted of the charge of murdering her father and stepmother in 1892, but this made-for-TV movie, like most recreations of the murders and subsequent trial, adheres to the popular consensus that Borden was guilty. Elizabeth Montgomery takes a break from playing victims to portray the enigmatic Borden. The trial scenes are lifted directly from the original court records; scripter William Bast's speculation as to what really happened the night the elder Bordens were hacked to death is pure (but credible) conjecture. Accompanied by a "parental guidance suggested" tag, The Legend of Lizzie Borden was first broadcast February 10, 1975.
Rating:
NR
Genre:
,
Directed By:
Written By:
In Theaters:
Runtime:
Studio:
Paramount Television
Critic Reviews for The Legend of Lizzie Borden
There are no critic reviews yet for The Legend of Lizzie Borden. Keep checking Rotten Tomatoes for updates!
Audience Reviews for The Legend of Lizzie Borden
½
"The Legend of Lizzie Borden" is so good not only in its performances, direction, and overall production, it is historically accurate. Nominated for 5 emmys including for best actress, this film won for outstanding costume design and film editing. Actress Elizabeth Montgomery known for television's "Bewitched," gives a surprisingly chilling and unforgettable performance as Lizzie Borden. The effective use of authentic speech and dress attire of the period makes the viewer feel at once he has traveled back to 1892. "The Legend of Lizzie Borden" at times appears dimly lit as if shot with oil lamps in the Borden home, giving the film a wonderful dark sinister look. As the camera closes in and focuses on Lizzie Borden's face, the film flashbacks to important scenes in Lizzie's life, sometimes contradicting courtroom testimony. An interesting fact (although she did not know it) is lead actress Elizabeth Montgomery was actually a distant cousin of Lizzie Borden herself! As cold detached Lizzie, Montgomery is subtle and unpredictable in her expressions and demeanor. The viewer can see there is something going on behind Lizzie Borden's seemingly unemotional facade, and gets a glimpse of a disturbed woman with secrets. Elizabeth Montgomery shot some key scenes in the nude (in a closed set) to show one possible theory of how Lizzie Borden could have murdered her stepmother and father without getting any blood on her. However because this was a movie made for television, it does not show nudity. The only few distractions that perhaps take away from an otherwise perfect film are spots when a few scenes fade to black, indicating where t.v. commercials were placed. Elizabeth Montgomery breathes life in her disturbing portrayal of Lizzie Borden and is convincing in a very difficult role that earned her an Emmy and Golden Globe nomination. The story and events are examined and much of the film takes place in the courtroom with actual testimony taken from the real Borden trial. The maid Bridget Sullivan (Fionnula Flanigan) and the determined prosecutor, Hosea Knowlton (Ed Flanders)are captivating. Resembling the family patriarch, Fritz Weaver gives a fascinating performance as the complex Andrew Borden. Flashbacks of Lizzie Borden as a child and her father add mystery to the story. This production follows historical accounts with accuracy and detail. "The Legend of Lizzie Borden" premiered in February of 1975 with no special effects. The film relies on it's performances and a story brilliantly recreated about the infamous hatchet murders of Fall River, Massachusetts. The haunting score from Billy Goldenberg enhances the creepy feel to the film. "The Legend of Lizzie Borden" is mesmerizing and a must see!
Sonya Troncoso
It's a traditional thriller except that it's based on real events. In fact, the movie claims that it's considered to be one of the most infamous and bizarre cases of the 19th century. Just because I'd never heard of it before doesn't change the fact. Putting aside the topic of my (never-ending) ignorance, while it might be considered well executed for a TV movie that released more than 35 years ago, it didn't suit my taste. Almost all the old-fashioned horror elements were present: an actress laughing loudly, behaving weirdly almost all the time, the sound of ticking of clocks, etc. It's kinda Montgomery's transformation to Psycho. Whatever it was, I failed to like it. Since it's "based on a true story", they could have put the creative license to better use. Some of the facts that are twisted don't do any good to the movie. Despite of its gritty subject, they should have added a few light moments. The lack of light moments was another let-down. The dialogues weren't effective either. The rhyme towards the end was exceptionally great, though.
familiar stranger
Super Reviewer
½
Great performance by Elizabeth Montgomery, good period feeling, far superior to most made for TV movies. Shows what the medium is capable of.
The Legend of Lizzie Borden Quotes
There are no approved quotes yet for this movie.