The Legend of Pancho Barnes and the Happy Bottom Riding Club
(2009)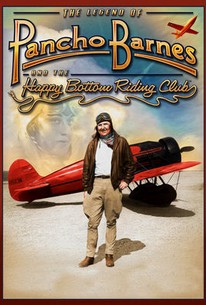 AUDIENCE SCORE
Critic Consensus: No consensus yet.
The Legend of Pancho Barnes and the Happy Bottom Riding Club Photos
Movie Info
A documentary profile of Pasadena society girl turned adventurer and aviator, Florence Lowe "Pancho" Barnes. In the 1920's and 30's, Barnes was Hollywood's top woman stunt pilot. In the 1940's and 50's, she owned and operated the (in)famous "Happy Bottom Riding Club" - a fly-in resort located near Edwards Air Force Base.
Rating:
NR
Genre:
,
Directed By:
Written By:
In Theaters:
Runtime:
Studio:
City of Orange California
Cast
Critic Reviews for The Legend of Pancho Barnes and the Happy Bottom Riding Club
There are no critic reviews yet for The Legend of Pancho Barnes and the Happy Bottom Riding Club. Keep checking Rotten Tomatoes for updates!
Audience Reviews for The Legend of Pancho Barnes and the Happy Bottom Riding Club
The First Lady of the American Air Force Nothing featuring Neil Armstrong is available on Instant Play. Really, there's not that much out there featuring Neil in the first place, and I've already reviewed most of it. This is in part because, well, I've already passed both "Apollo" and "Moon" in the library catalog. It is also because Neil was, to the surprise of many who know what a brave man he was, [i]shy[/i]. One of the reasons he didn't do as many interviews as he was asked for was that it simply wasn't possible--there wasn't enough time for all the people who wanted to interview him. Another reason, however, was that he was never very comfortable in the public eye. He didn't think he was that impressive; he was just doing his job. And his job happened to be landing on the Moon. However, he was much more proud of his test pilot days, and in those days, he doubtless met Florence "Pancho" Barnes, who ran a bar near the test base in the Mojave. Florence Lowe was born into a wealthy family in San Marino, California. Her grandfather, Thaddeus C. S. Lowe, was an aeronaut, the founder of the Union Army Balloon Corps. Florence never quite met her mother's expectations, even after marrying Reverend C. Rankin Barnes, a South Pasadena minister, and having a son. She disappeared, spending time as a seaman--literally; she was in drag--and returning four months later with the intention of living life the way she wanted to. She became an aviatrix, beating Amelia Earhart's air speed record. She unionized the stunt flyers on Howard Hughes films. In the Depression, she lost almost everything, reduced to sending begging letters to people she'd loaned money to when she was flush. She even had to sell her planes. With what little money she had left, she bought a ranch in the Mojave and founded a bar, the Happy Bottom Riding Club. It was near enough to March Field that it became a haven for test pilots and Pancho herself a legend. It was all too easy for the people trying to defame Pancho's character to claim that she was a lesbian. (And, of course, in that era, that was actually true defamation!) After all, Pancho (she took the nickname after her return from her adventures overseas) was of the opinion that there was no meaningful division between men's activities and women's activities if you really wanted to do either. Or anyway that there was no reason women couldn't do whatever they wanted. She was married four times, and there seems no real suggestion that she was even bisexual, but she also wasn't the polite, decent lady that her mother had wanted her to be. She was loud- and foul-mouthed. She did things the way she wanted to. She had inherited her grandfather's love of aviation; he was the one who suggested that she should get involved in the new heavier-than-air craft as a successor to his ballooning days. And, yes, she had successfully disguised herself as a man when she wanted to. Most of this film is the relationship between Pancho and the Air Force. She basically considered her grandfather to have founded it, and she wasn't entirely wrong. That made her all the more angry with the battle she ended up having with it when they wanted to buy her out and build an extra-long runway across her property. She was pretty badly mistreated by them, whether anyone in the Air Force was actually responsible for the club's burning down or not. She was accused of procuring, her club declared an off-limits brothel by the head of the base. Pancho was a remnant of the early cowboy days of the Air Force, and she was a bit of a dinosaur. The Air Force was trying to move on from those days, and Pancho was a reminder of it. I'm not sure I would have liked Pancho Barnes, but her story was fascinating. As voiced by Kathy Bates, she comes across as one of the most interesting female figures in aviation. She is also very important to the history of male test pilots. Pancho Barnes and her ilk, male and female, were a vital step in the history of Apollo. You can't have rockets without starting with airplanes, and most of the early astronauts were also test pilots. They were men who knew how to take risks. Pancho was too old and, well, too female to be an astronaut herself. However, the life of Pancho Barnes was not too dissimilar from those who would become test pilots and astronauts. She barnstormed. She unionized test- and stunt-pilots. She helped organize women's flying competitions. She used her piloting to help her country in peace and war. Pancho Barnes is not as well remembered as various of the men who frequented the Happy Bottom Riding Club, men who to this day have an annual barbecue on its former site. However, a country which produced a Pancho Barnes was one which would inevitably produce Chuck Yeager and Buzz Aldrin--and Neil Armstrong. She had the passion and the skill, and it's a shame that she never had the opportunity.
Edith Nelson
The Legend of Pancho Barnes and the Happy Bottom Riding Club Quotes
There are no approved quotes yet for this movie.
Discussion Forum
Discuss The Legend of Pancho Barnes and the Happy Bottom Riding Club on our Movie forum!