The Legend of the Mask
(1991)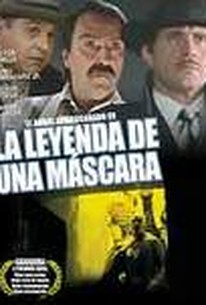 AUDIENCE SCORE
Critic Consensus: No consensus yet.
Movie Info
El Angel Enmascarado was found dead in his mansion, and reporter Olmo Robles has been given the task of finding out what happened to the famous (and wealthy) wrestler -- including the wrestler's true identity, which has remained hidden from the beginning. This takes him into the wrestler's past and the vast, gritty world of wannabe wrestlers and hangers-on, seedy nightclubs, and underworld types. Why did El Angel give up his identity as a young man? A lot of people don't want Olmo to find out, and he receives several serious attacks intended as warnings. This film-noir detective movie/comedy is also an affectionate spoof of Mexican wrestling films of the 1950s and '60s, and will probably be best appreciated by those familiar with the genre.
Rating:
NR
Genre:
, ,
On DVD:
Runtime:
Critic Reviews for The Legend of the Mask
There are no critic reviews yet for The Legend of the Mask. Keep checking Rotten Tomatoes for updates!
Audience Reviews for The Legend of the Mask
Like Charles Foster Kane, Only With Wrestling Mask I have a perverse love-hate relationship with Mexican media. The old receptionist at my therapist's office would listen to chintzy Mexican pop, and while I found it funny, I didn't actually like it. However, it now reminds me of Toby, and I did really like Toby. When I was a senior in high school, my best friend Angie and I only had four classes each and got out of school at lunch. We would go back to her house sometimes, and I got strangely addicted to [i]Muchachitas[/i], to the extent that now--fifteen years later--I will sometimes get the theme song stuck in my head. Not that I could remember anyone's name. I made up new names for all of them; the only one I still remember is "The Hoochie With the Fingernails." However, everyone I've ever met who watched that show knew without any further clarification who I was talking about and expressed horror about her eye makeup as well. [i]El Angel Enmascarado[/i], the Masked Angel (Héctor Bonilla), is dead. He didn't leave mysterious dying words, but he did insist on being buried in the outfit, including the mask. A reporter looking for a new angle, Juan J. Luna (Héctor Ortega), decides that he will search through the record and interview people who knew him, and he will find the True Identity of this Mysterious Man. So yeah. Only unlike [i]Citizen Kane[/i], its obvious inspiration, Luna ends up in this complicated tangle of the dark side of Mexican [i]lucha libre[/i], for those unaware there was one. It turns out that, when they said he never took off his mask, they really meant he never took off his mask. He married two separate women who never saw him without the mask on. There's a climactic scene wherein the second wife, Lina Roma (Gina Morett), literally did not know which man in a mask was the one she'd lived with and slept beside for years. Which, you know, a little improbable. Really, the whole movie is deeply silly. I am fascinated by it as a concept, but it really is not a good movie. There's a scene I watched three times without actually understanding what was going on in it. Its veer into the improbable is still dramatic, but I'm not sure it's surprising. Especially since, even after the reveal, everyone keeps running around acting like total loons. No one in the entire movie seems to have thought out the consequences of their actions. Which is okay, it seems, because I don't think there are any. I mean, Our Hero is telling us this whole story from jail, and it seems like an extreme sentence given what he's being charge with, but he's the only person who has anything happen to him. At least anything understandable. A guy dies, apparently as a consequence of something, but I'm not entirely sure who he was or what it was a consequence of. Several minor characters are listed only by wrestling names. This is one of the differences between [i]luchadores[/i] and American professional wrestlers. Yeah, okay, the American ones do establish characters and follow invented plots, but it's possible to learn real things about them, and they have been known to break character now and again. But, see, when I say that they're listed only as their wrestling names, I don't mean the characters. I mean the actors only have that name appear in the credits. One of them vaguely fascinates me, because his [i]luchador[/i] name is apparently "El Nazi," but I really don't want to know bad enough to go track his biography down and find out what's going on there. It kind of makes sense in context that we never actually see the Masked Angel's face, and it must have made it easier on any scene where they chose to use a stunt double. Though given that it's a Mexican movie, I think the odds of a stunt double are pretty low. This is another thing I love about our library system. I never would have heard of this movie under ordinary circumstances. Mexican wrestling movies are not movies I would generally seek out under ordinary circumstances. To be honest, I'm not sure I knew what this was before it showed up at the library and I read the back of the box. Still, I was intrigued, if not horrified, but the plot presented. I don't think I'm glad I saw this. It's a bad movie, though far from the worst I've ever seen. It's a waste of Pedro Armendáriz Jr., a fine actor who has appeared in half the Mexican movies I've ever seen. A few American favourites as well. However, it was at least sort of entertaining. There as at very least a sick fascination with what was going on, on those rare occasions where I could figure out what was going on. And on the whole, I'm not at all sure that I wouldn't rather watch silly escapist trash than some of the dreadful highbrow trash which has been coming my way of late.
Edith Nelson
The Legend of the Mask Quotes
There are no approved quotes yet for this movie.