The Loss of Nameless Things
(2004)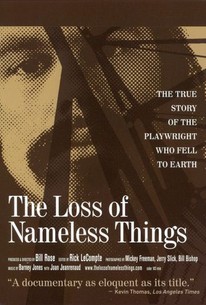 AUDIENCE SCORE
Critic Consensus: No consensus yet.
Movie Info
Documentary filmmaker Bill Rose examines the tragic fall from grace of the playwright whom many critics believed to be the next great voice in American theater with this film telling the story of Grinder's Stand scribe Oakley Hall III. The son of famed novelist Oakley Hall, Hall III first began to garner attention as the co-founder and artistic director of the Lexington Conservatory Theater in upstate New York. The year was 1978, and Hall III's work had recently been optioned by Joseph Papp of the renowned Public Theater in New York. The playwright has just completed his verse play, a drama titled Grinder's Stand that was based on the events surrounding the bizarre death of American explorer Merriweather Lewis, when he suffered extensive head injuries in a fall from a bridge not far from the Lexington Conservatory Theater. Both his life and career were irreparably altered by that fateful fall, leaving many to wonder what would become of the man whom critics often singed out as an enfant terrible with an incredibly bright future. Flash forward twenty-five years, and Hall III was hired as a playwright and consultant by a Northern California theater troupe determined to stage the play that he was writing the night that his life was forever changed, providing filmmaker Rose with the ideal opportunity to bring his remarkable story to the screen for the very first time. This program first aired on PBS on Tuesday, February 28, 2006.
Critic Reviews for The Loss of Nameless Things
There are no critic reviews yet for The Loss of Nameless Things. Keep checking Rotten Tomatoes for updates!
Audience Reviews for The Loss of Nameless Things
½
This documentary isn't really about the true loss of nameless things but, it is about the loss of things that a lunatic can no longer, or can barely, comprehend. He was, and I suppose is, a very interesting character. But, there was a point while watching this documentary that I found myself wondering if this documentary wasn't about the plummeting ridiculousness of a man who in different aspects could be considered the "good side of Charles Manson", or perhaps the "not so negative side of Charles Manson", to the idea that such (a) thing(s) could even possibly exist. I found Oakley Hall (Where the hell did the name "Tad" come from anyway!??) to be a very eccentric dichotomously strange fish; ...a paranoid & unpredictable self destructive sociopath on one hand and a very intelligent & talented writer with amazing potential on the other. Something of a mixture, a concoction consisting of various qualities, from such individuals as Ted Kazinski (the unabomber), Charles Manson, Francis Ford Coppola, and Samuel Clemmons (Mark Twain). Good to see that he finally shaved off the unibrow! (Or perhaps somebody shaved it for him; regardless, he definitely doesn't look as much like a crazed idiot without it!!) I would have appreciated the movie itself much more if they, at the end of the film, had put pictures up of everyone in the film who was interviewed, one right after the other with their names being displayed along with their pictures as they appeared, with perhaps a brief description of what each person does and where they were headed by the time post production on the film was wrapping up, including Oakley Hall himself! (Also, a description of why his exwife/lover "Mary" and their son apparently declined to appear in the film.) I recommend this only to those who are interested in acting and specifically in theatre. And perhaps also to those interested in self-medication with drugs and in brain injuries!
Morpheus One
The Loss of Nameless Things Quotes
There are no approved quotes yet for this movie.