The Lost JFK Tapes: The Assassination
(2009)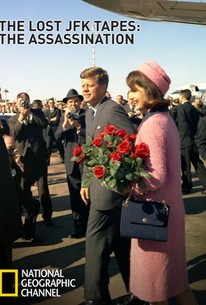 AUDIENCE SCORE
Critic Consensus: No consensus yet.
The Lost JFK Tapes: The Assassination Photos
Movie Info
In commemoration of John F. Kennedy's assassination in November of 1963, National Geographic presents an exhaustive timeline of archived home movies, news reports, radio reports, and audio recordings depicting the event that shattered a nation and shocked the world. With footage of stunned witnesses, breathless news anchors, and the very priest who administered President Kennedy's last rites, this documentary captures the grief of a nation for the benefit of future generations.
Rating:
NR
Genre:
,
Directed By:
On DVD:
Runtime:
Critic Reviews for The Lost JFK Tapes: The Assassination
There are no critic reviews yet for The Lost JFK Tapes: The Assassination. Keep checking Rotten Tomatoes for updates!
Audience Reviews for The Lost JFK Tapes: The Assassination
½
Not All That Was Seen Is Lost When Walter Cronkite died, I became fascinated with the idea that there are certain people through whose eyes we see history. There's that Boccaccio quote about plague victims who "ate lunch with their friends and dinner with their ancestors in Paradise." Most of what we know about the Great Fire of London--anyway most of what I know about it--comes from the diary of Samuel Pepys. Early Jamestown? John Smith. And so forth. Name a major event in European history of the last thousand or more years, and odds are pretty good there is a single source drawn on more than any other. What this can obscure is that for every Mary Chesnut, there are dozens of other people doing just what she did. Watching and writing down what they saw. Even now, even in the age of television, there is more than just Walter Cronkite reporting on the death of a president. It's just that they aren't the ones whose view became the one we saw. And of course, many cameras were rolling over those days in Dallas. At first, they were mostly just local ones. Kennedy was the first sitting president in some time to visit the city, and so there was a great deal of excitement about his arrival. The Kennedys' youngest child, a boy named Patrick, had been born and died that August, and this was to be Jackie Kennedy's first major appearance since that bereavement. It had been raining, but it was now a beautiful, sunny day. Really, for most of Dallas, it was business as usual. On local channel WFAA, Julie Bennell was hosting her regular programming when program director Jay Watson burst on camera. He apologized for being out of breath and then broke the news--John F. Kennedy and Governor John Connally had been shot. The footage which follows includes footage shot at Parkland Memorial Hospital and at the Trade Mart where Kennedy was going to deliver his speech. And then we encounter more familiar names. Abraham Zapruder. Lee Harvey Oswald. Jack Ruby. The fact is, those first few days were notable for their confusion. Included here is more WFAA footage, this from within the Texas School Book Depository, which shows the first appearance of the murder weapon. And, yes, it is at that time identified not as a Carcano but as a Mauser, but to at least my untrained eye, it's the same gun--and the person who made the initial identification admitted he wasn't much familiar with either. Oswald is referred to as "Harvey Lee Oswald" almost as often as he is "Lee Harvey Oswald," and there's one guy who persists--in footage taken moments before Oswald's death--in calling him Lee Harold Oswald. Initial reports had both Kennedy and Connally killed, alive, in critical condition. The first thing approaching a real formal announcement of Kennedy's death is the discovery that a pair of priests had been summoned for Last Rites. And when Jack Ruby is referred to as being "known to us," the immediate and logical assumption was that it was merely as a criminal. There is also, and I think people fail to think about this, how normal it all was before. The last assassination had been that of William McKinley, long before the major players in this story were born. FDR had died in office, and that had been a shock, but it was a shock nearly twenty years past. Yes, the Secret Service was worried about security; that's their job. Indeed, there's even a reference to McKinley, in that people trying to shake Kennedy's hand are required to have both hands open and empty. But after all, the footage of the Trade Mart from before that fateful moment is just some guys setting up a banquet hall. A mention is made that dispensation is given so that Kennedy, a Catholic, can have steak for lunch on a Friday. Texas, after all; what else would they serve? It's a nice enough day that the rain cover--which, contrary to popular belief, was not bulletproof--is not put over the car. And then it was all different. "Mr. President," Nellie Connally said in words she probably regretted to her dying day, "you can't say Dallas doesn't love you." And then three shots--the reporters all agreed--rang out. People got down or else ran from the Depository. A genial afternoon show was interrupted with horrible news. Abraham Zapruder talked about his film. Lee was caught. He gave self-serving and mostly untrue statements about his treatment and what he'd been told. A madhouse of reporters was everywhere; if anything compromised the investigation, it was that they didn't seem able to keep reporters out. It killed Lee, too. While everyone said they'd believed Jack Ruby to be a Secret Service agent, if it hadn't been so crowded and confused, someone would have recognized him. In fact, we know he'd been in and out of the police station already by that fateful morning. And in the end, there is a skittish horse with an empty saddle and a little boy whose third birthday would be immortalized forever by a salute.
Edith Nelson
The Lost JFK Tapes: The Assassination Quotes
There are no approved quotes yet for this movie.