The Lost Skeleton Returns Again
(2009)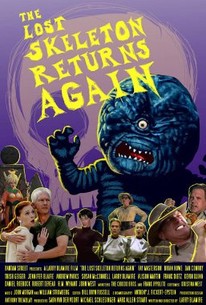 AUDIENCE SCORE
Critic Consensus: No consensus yet.
Movie Info
A tongue-in-cheek jungle adventure shot in Super Skeletorama, director Larry Blamire's sequel to The Lost Skeleton of Cadavra follows Reet Pappin (Frank Dietz) deep into the Amazon in search of a priceless new mineral known as Jerranium 90. Venturing into the green inferno, Reet knows that in order to find the source of Jerranium 90, he will first have to find Dr. Paul Armstrong, a once-brilliant scientist turned cynical alcoholic. Finding Dr. Armstrong won't be easy, so in order to get the job done Reet invites Armstrong's wife Betty and Dr. Roger Fleming along for the mission. Later, it's revealed that Dr. Fleming has come into possession of an item that seems to belong to the Lost Skeleton of Cadavra, and the group ventures into the famed Valley of the Monsters, where they encounter a secluded breed of jungle-dwellers who may be able to help them find what they're searching for.
Rating:
NR
Genre:
On DVD:
Runtime:
Critic Reviews for The Lost Skeleton Returns Again
All Critics (1) | Fresh (0) | Rotten (1) | DVD (2)
Tries much too hard to top its first act by hurling jokes at us that go on too long, are dragged through the dirt, or just aren't funny...

Audience Reviews for The Lost Skeleton Returns Again
While this is still plenty of fun, the jokes seem more jokey than in the original, or even "Trail of the Screaming Forehead." In the original, the humor came from the bad dialogue, whereas here the dialogue seems to make more self aware jokes. I dunno, I preferred the original's style. This one feels more like a parody, while the first felt like an humorous homage. Both are entertaining though. The cast is still great and I did enjoy the sort of King Kong-esque adventure aspect of the story, so I ultimately give it approval.
Ken Scheck
Not as good as the first one, but still very, very excellent film here. Funny most of the way through. Don't believe the other critics, they probably like Adam Sandler movies and The Hangover. Larry Blamire gives us an alternative to the stupid idiotic Hollywood poop-comedies. Larry is a great writer, and none of jokes are poop humor or farting like Adam Sandler. How much of that Hollywood crap can you take anyway? Its time for something new and Larry Blamire is doing a great job. Check out the first Lost Skeleton, its a classic. Also, Trail of the Screaming Forehead is another Larry Blamire classic. Dark and Stormy Night is not as good, but still worth checking out.
Bunster Gorbin
Almost as hilarious as the first... almost. It feels like the filmmakers tried a little too hard to re-capture the magic of the first... or that of the dialogue at least. The patented brand of purposely bad Blamire dialogue (which in small, one or two-liner doses is laugh-out-loud funny) is dragged out to almost frustrating lengths here and that stops the plot (silly in its own right) dead in its tracks. This is starting to look like a negative review so let me say here and now that I did enjoy Returns Again. I was delighted with the return of all the characters (and the introduction of twins for all those characters who were bumped off) from the first. You can do a whole lot worse with follow-ups. Bravo I say. Bring on Lost Skeleton Walks Among Us!
Vincent Pesce
The Lost Skeleton Returns Again Quotes
There are no approved quotes yet for this movie.