The Lost Tribe
(2009)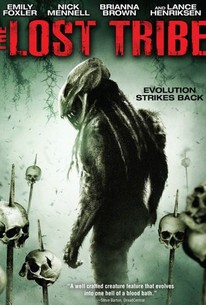 AUDIENCE SCORE
Critic Consensus: No consensus yet.
Movie Info
A relaxing weekend on the water leads to tropical terror for a group of young seafarers who stumble across an ancient and deadly secret. Shortly after a group of archeologists vanish without a trace on a secluded tropical island, a ship capsizes in the waters nearby, and its frightened passengers swim to the beach for safety. But this secluded paradise is no island sanctuary - it's a hunting preserve for a prehistoric tribe of predators that prey on humans. They've slaughtered the archeologists, and now they've got a new group to hunt.
Rating:
R
Genre:
, , ,
Directed By:
Written By:
On DVD:
Runtime:
Studio:
Image Entertainment
Critic Reviews for The Lost Tribe
There are no critic reviews yet for The Lost Tribe. Keep checking Rotten Tomatoes for updates!
Audience Reviews for The Lost Tribe
½
Fairly cheap and quickly made. This story has been similarly done before except this version is forgettable.
Darrin Craig
A rip-off of Predator, The Lost Tribe never manages to develop itself in any way that is memorable or enjoyable.
Al Miller
Tough call. Three stars seemed to low, four too high. One line summary: Small business group encounters Murphy's law and a lost tribe of humans. ------------------------------- In the opening sequence, a woman archaeologist and her team make a big discovery, a skull that is not quite human. At least the team was very excited about it. The Church sends Gallo to dispatch her, which he does. We do a jump shift to a boat at sea. Anna, Tom, Joe, Alexis, and Chris are on their way to a potentially rich business meeting. They rescue a man that's been left to drift at sea. He's out of his mind, for some reason. When most people are asleep, the rescued man takes control of steering and crashes the boat into an island. Their advanced location devices fail, but the radio works, and they give the Coast Guard their last approximate position. They find left over equipment from Gansis Research, which is supposedly connected to NYU. They also encounter someone/something which has a cheesy invisibility screen; shades of Predator. The next morning, Tom and the Gansis gear are both gone. The remaining four pursue. Something picks off Alexis, lifting her into the canopy, then dropping her to the ground. The three survivors find a video that they watch. It involves the 'lost tribe' a missing link (or dead end?) in human evolution. Supposedly the Roman Catholic Church would be upset about this since this would 'prove' that God did not create man on the sixth day. Gallo kills Joe, and was about to kill Anna, when something kills him instead. It was one of the lost tribe, who scares Anna, but goes back into the jungle. Chris is barely alive, and Anna watches the lost tribe Alpha Male kill him for a snack. The copying of Predator is repeated in regard to camouflage, and the lone survivor against heavy odds. Will Anna survive? Will the Coast Guard arrive in time? --------Scores-------- Cinematography: 8/10, Gorgeous in daylight exteriors, better than usual in dark scenes. The final 10 minutes or so looked like it had a different cinematographer of lesser talent. Sound: 10/10 Nicely done. Acting: 8/10 Better than I expected. Screenplay: 6/10 Was it ever adequately explained why anyone would care about this lost tribe? No. Could a skinny, non-athletic woman survive any hit by these ultra-strong animals? No. Yet she survives what, 15 or so, plus a forty foot drop from a tree? I don't think so.
Ed Collins
The Lost Tribe Quotes
There are no approved quotes yet for this movie.
Discussion Forum
Discuss The Lost Tribe on our Movie forum!