The Merry Wives of Windsor
(1982)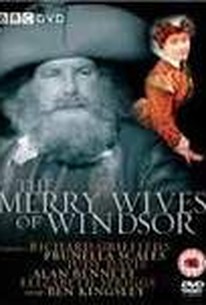 AUDIENCE SCORE
Critic Consensus: No consensus yet.
Movie Info
Windsor is a peaceful town on the Thames where hardly a leaf falls to disturb the silence. And then England's most notorious mischief maker, Sir John Falstaff (Richard Griffiths), arrives from London with his hooligans -- Bardolph (Gordon Gostelow), Nym (Michael Robbins), and Pistol (Nigel Terry) -- to steal and make merry. After breaking into a lodge and killing a deer on private land, they arouse the wrath of the locals. But quick tongues and pleadings of innocence exonerate them and even earn Falstaff a meal at the home of George Page (Bryan Marshall), a Windsor gentleman. There, Falstaff converses with Mrs. Page (Prunella Scales) and her neighbor, Mrs. Ford (Judy Davis), both of whom rule the purse strings of their households. Falstaff then decides to woo both women and charm them free of their money. But after he writes them a love letter -- the same letter word-for-word except for the name of the addressee -- the two "merry wives" compare letters and decide to give Sir John his comeuppance. Meanwhile, Mr. Ford (Ben Kingsley) gets wind of Falstaff's designs on his wife and, riven with jealousy, plots to surprise Falstaff when he comes calling. Scenes ensue in which Mr. Ford bursts through his front door in an attempt to discover Falstaff. The tee-heeing wives couldn't be happier, for these occasions give them a chance to humiliate Falstaff -- once by having him hide in a laundry basket which is dumped in the muddy Thames and another time by dressing as "the fat woman of Brentford." A subplot follows three men as they woo Mrs. Page's lovely daughter, Anne (Miranda Foster). In the end, Falstaff acknowledges his bad behavior, Anne Page gets her man, and good feelings abound.
Critic Reviews for The Merry Wives of Windsor
There are no critic reviews yet for The Merry Wives of Windsor. Keep checking Rotten Tomatoes for updates!
Audience Reviews for The Merry Wives of Windsor
One star for Richard Griffiths as Falstaff, one for Ben Kingsley as Frank Ford, and two big stars for Prunella Scales and Judy Davis as Mistresses Page and Ford respectively. Perhaps the best of the BBC Complete Shakespeare comedy productions, but you know, for me, Shakespeare's comedies really do pale in comparison to his romances, his histories, and, most especially, to his tragedies. The power of wit, no matter how brilliantly masterful, can rarely move me like the power derived from human actions gone disastrously awry.
Lanning : )
Super Reviewer
The Merry Wives of Windsor Quotes
There are no approved quotes yet for this movie.
Discussion Forum
Discuss The Merry Wives of Windsor on our Movie forum!