The Million Pound Note (Man With a Million)
(1954)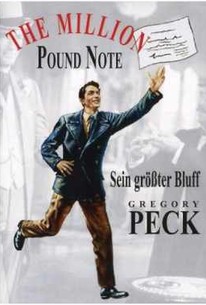 AUDIENCE SCORE
Critic Consensus: No consensus yet.
The Million Pound Note (Man With a Million) Videos
The Million Pound Note (Man With a Million) Photos
Movie Info
Released in the US as Man With a Million, The Million Pound Note is a satisfying adaptation of a satirical short story by Mark Twain. Gregory Peck plays Henry Adams, an impecunious American living by his wits in London. Henry becomes the object of a wager between millionaire brothers Oliver and Roderick Montpelier (Ronald Squire and Wilfred Hyde-White), who want to find out if a man with a million pound note in his bank account could live comfortably for one month on the strength of that note--without ever spending a penny of it. When Henry is given the note and lets it be known that he has it, every courtesy imaginable is extended to him by hoteliers, restauranteurs, etc. Trouble brews when Henry uses the note's reputation to speculate on the stock market. When his creditors demand that he produce the note as an act of faith, Henry is unable to do so, whereupon pandemonium reigns--and the audience's laughter cascades. ~ Hal Erickson, Rovi
Rating:
NR
Genre:
Directed By:
Written By:
In Theaters:
Runtime:
Studio:
United Artists
Critic Reviews for The Million Pound Note (Man With a Million)
All Critics (1) | Fresh (0) | Rotten (1)
It was a gentle satire of manners that never had enough spice in it to win me over.

Ozus' World Movie Reviews
Audience Reviews for The Million Pound Note (Man With a Million)
½
Based on a short story by Mark Twain, this wry comedy with young Gregory Peck is rare indeed. This well done adaptation of Twain's story was given fine treatment and is free to see on youtube here: https://www.youtube.com/watch?v=C_wliM9ui_M The story reveals how everyone is so stunned by the appearance of a millionaire in their presence they give Peck a pass on everything he does. Sadly, today's audience would find little appealing in this quaint light comedy. It has no profanity. The Million Pound Note (released as Man with a Million as well as Big Money in the U.S.) is a 1954 British comedy, directed by Ronald Neame and starring Gregory Peck. It is based on the Mark Twain short story, The Million Pound Bank Note. [img]https://encrypted-tbn0.gstatic.com/images?q=tbn:ANd9GcThR6yOUSW_JMXHadYkFg4oz91s7mpP-neYUPfEliDoSOX6zWqGzw[/img] REVIEWS by RT Community: 70% (67%) A charming comedy set in Edwardian London that plays as you probably would expect. Very much a Saturday matinee movie that, for the most part at..... 60% I saw "Trading Places" not knowing that the story had already been done. Pretty funny and really cute. [img]https://encrypted-tbn2.gstatic.com/images?q=tbn:ANd9GcTsbKasVAUnkvj6Q9ED2DEYtklK9rEynNtgOPf9Mgj-QqJ6XBUROA[/img] Cast Gregory Peck as Henry Adams Ronald Squire as Oliver Montpelier Wilfrid Hyde-White as Roderick Montpelier Joyce Grenfell as Duchess of Cromarty A. E. Matthews as Duke of Frognal Maurice Denham as Mr. Reid Reginald Beckwith as Rock Brian Oulton as Lloyd John Slater as Parsons Wilbur Evans as American ambassador Hartley Power as Hastings George Devine as Restaurant proprietor Bryan Forbes as Todd Gudrun Ure as Renie (Ann Gudrun) Hugh Wakefield as Duke of Cromarty Felix Felton as Alfred (uncredited) Jane Griffiths as Portia Lansdowne [img]https://encrypted-tbn1.gstatic.com/images?q=tbn:ANd9GcSAci8BO_fJh4PGY41QGnfax5uWF1T6VHgYvQN1nx1bI0RxSOrv[/img] Directed by Ronald Neame Produced by John Bryan Written by Mark Twain Jill Craigie Music by William Alwyn Cinematography Geoffrey Unsworth Editing by Clive Donner Distributed by General Film Distributors Release dates 7 January 1954 (UK) 18 June 1954 (US) Running time 90 minutes [img]http://upload.wikimedia.org/wikipedia/en/thumb/5/5a/MillionPoundNote.jpg/220px-MillionPoundNote.jpg[/img]
monsieur rick
Lite cinema featuring Gregory Peck as a penniless American stranded in London. On a bet, two wealthy bankers give him a million pound note with the stipulation that IF he can go one month without cashing it he can have any job his heart desires (within reason, of course). Yes, it's a plot riddled with holes but with Peck carrying the film nobody seems to mind. A delightful little comedy.
Randy Tippy
Super Reviewer
Well translated and warmly received in China in the 1950-60s, Man with a Million reveals the materiality in the immaterial note in the capiltalist economic mode. The interesting thing is why it was introduced in China then when socialist realism mode took the dominating position. Such a translingual practice tries to expose the hypercritical essence of Capitalism, which foregrounds the unquenchable desire for capital, but apperantly tells more than it in the Chinese context.
Yizhong Gu
The Million Pound Note (Man With a Million) Quotes
There are no approved quotes yet for this movie.