The Most Beautiful (Ichiban utsukushiku)
(1988)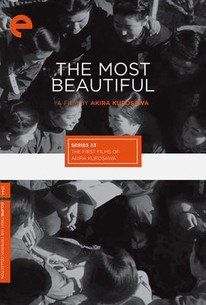 AUDIENCE SCORE
Critic Consensus: No consensus yet.
The Most Beautiful (Ichiban utsukushiku) Photos
Movie Info
Following up on his successful directorial debut, soon-to-be cinematic master Akira Kurosawa helms this war-era melodrama about female factory workers dutifully toiling for the greater good of the Imperial war effort. Under the watchful eye of their paternalistic factory manager (played by Kurosawa regular Takeshi Shimura), the young women workers fight through their own trials and tribulations to produce high-quality optical equipment factory under extremely spartan, almost militaristic conditions. One lass (Takako Irie) gets ill and is forced to convalesce over her own objections. Another insists on continuing with her work after falling and breaking her leg. Still another is desperately trying to hide her tuberculosis so she can stay on the assembly line. The shift leader (Yoko Yaguchi), whose mother is dying at home with no one to care for her, struggles to set a good example for her underlings and struggles to find a mislaid half-finished lens. ~ Jonathan Crow, Rovi
Rating:
NR
Genre:
,
Directed By:
Written By:
In Theaters:
On DVD:
Runtime:
Studio:
Criterion Collection
Critic Reviews for The Most Beautiful (Ichiban utsukushiku)
All Critics (1) | Fresh (0) | Rotten (1)
If you ever wanted to miss a Kurosawa film, this minor film is the one.

Ozus' World Movie Reviews
Audience Reviews for The Most Beautiful (Ichiban utsukushiku)
½
Full Review Coming Soon!
Chris Browning
Super Reviewer
Propoganda film that Kurosawa made, not extremely unbearable and not exactly one that you should never watch because it is interesting in its own way. About women at work in an optics factory, it is a revealing portrait of how life was for women during the second world war in Japan. It is not of course a neorealist film that presents the exact truth as it was in real life, and it is heavily melodramatic: thus it is not a great movie. But there seemed to be an underlying truth behind the depiction of these women that made it worth watching at times.
In "The Most Beautiful," Ishida(Takashi Shimura), the manager of a precision optics factory in Japan during World War II, raises the production quotas, 100% for the men, 50% for the women, because otherwise everybody will be speaking English by the middle of the following week. Watanabe(Yoko Yaguchi), the women's floor manager, objects, wanting a higher quota for the women and has her request granted.(For a second there, I thought she was asking for the opposite.) Things get off to a bad start when Suzumura(Asako Suzuki) falls ill... "The Most Beautiful" is the first Japanese propaganda film from World War II that I have seen. While I am sure there were others made(I can't but help imagine one involving American marines eating babies), this one survives, not only because it was made by Akira Kurosawa but also because it stands up remarkably well in very touchingly depicting the conflicted emotions of the workers who sacrificed much to stay on the production lines.(Thankfully not in a soap opera way, though, probably because, correct me if I'm wrong, I seriously doubt Kurosawa had a romantic bone in his body.) Along those same lines, the women bringing samples of their home soil with them to the factory is a nice touch. Otherwise, they practice patriotic songs when they are not working, even going so far as to wish to destroy all enemies which is very rude.
The Most Beautiful (Ichiban utsukushiku) Quotes
There are no approved quotes yet for this movie.