The Nanny Express
(2008)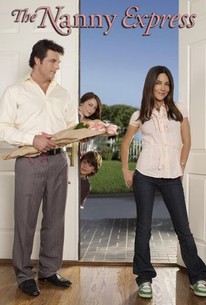 AUDIENCE SCORE
Critic Consensus: No consensus yet.
Movie Info
A widowed father and a hard working student find their professional arrangement complicated by some very personal feelings in this uplifting romantic comedy featuring Stacy Keach and Dean Stockwell. David Chandler (Brennan Elliot) is a single father in need of serious help; his nine year old son Ben (Uriah Shelton) and teenage daughter Emily (Natalie Dreyfuss) seem intent on driving away every nanny the hapless father hires, and in order to keep things under control dad's going to need an extra pair of hands to help out around the house. Enter Kate: a devoted student who divides her time between earning her teaching degree and acting as caretaker to her ailing father. Kate needs a job, and she's smart enough to beat the Chandler kids at their own game. Not only that, but Kate also understands exactly what the kids are going through since she too lost her mother when she was just a young girl. Before long, Kate has managed to break though to Ben, but winning over Emily won't be nearly as easy. Later, as Kate begins making headway with Emily, the nurturing nanny and overburdened father begin to realize their feelings for one another run much deeper than either had ever anticipated.
Rating:
NR
Genre:
,
Directed By:
Written By:
In Theaters:
On DVD:
Runtime:
Studio:
Larry Levinson Productions
Critic Reviews for The Nanny Express
There are no critic reviews yet for The Nanny Express. Keep checking Rotten Tomatoes for updates!
Audience Reviews for The Nanny Express
½
Yes, I cried. And I don't feel too bad because it was a Hallmark movie and those are very specifically designed to make you cry!!!
Becky Bennett
Rip of the show "The Nanny" and ABC Family's "Au Pair" films, but with Vanessa Marcil. What makes this movie funny is that it's not as bad as most movies you'll see on Hallmark, but it's quite a bit more "sexed-up" than the rest. But this is mostly due to Vanessa Marcil, who probably couldn't tone it down, even if she tried. The basic plot of the movie is as follows, though you'll find you've heard it a thousand times, a wealthy and handsome (and still grieving) widower is struggling to raise his two children and keep them under control. He's gone through however many hundred nannies, but none seem to do the trick until a sexed-up young college girl (or grad) manages to be in the wrong place at the right time and gets hired because of her raw sexuality... er, her "over-qualified skills". Before you know it, the kids are happy and the dad wants some action again and BOOM, they're in love. The only real difference about this movie (and it's certainly not a real difference) is that the kids are trying to hook their dad up not with the nanny, but with some rich blonde gal, I believe it's the daughter's teacher/ballet instructor or something like that. While not being that great of an actress, Marcil seems to make up for it in sensuality. I actually laughed out loud at how many butt shots they showed of her, one scene especially coming to mind, when she's in the laundry room with an over-flowing washing machine (how over-used and stereotypical is that?) and she's completely drenched, head to toe, bending over in front of the camera in soaking jeans. Like that's not going to get some attention... Meanwhile, the dad seems to be completely oblivious to her unadulterated attractiveness ala "Mr. Sheffield!". Or at least seems to be doing a good job hiding it until the epiphany moment of, "This girl wants to sleep with me! YAY!" Complete and total hack flick, but not quite bad enough to really rail against. Worth watching if you want to have a good laugh at the movie's expense.
Brian Dev
The Nanny Express Quotes
There are no approved quotes yet for this movie.
Discussion Forum
Discuss The Nanny Express on our Movie forum!