The Night James Brown Saved Boston
(2008)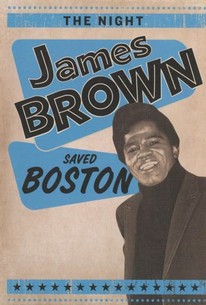 AUDIENCE SCORE
Critic Consensus: No consensus yet.
Movie Info
Mere days after the assassination of Martin Luther King, Jr., soul legend James Brown held a historic concert in the city of Boston. This is the story of a city about to explode, and the means by which music quelled the potentially volatile situation.
Cast

Critic Reviews for The Night James Brown Saved Boston
There are no critic reviews yet for The Night James Brown Saved Boston. Keep checking Rotten Tomatoes for updates!
Audience Reviews for The Night James Brown Saved Boston
There's a riot goin' on! Who're you gonna call? Well, if you're a rookie mayor sitting on a powder keg in Boston, you'd be well advised to clear a space on your speed dial for Soul Brother #1. April 5, 1968: a wave of race rioting is sweeping across America as the black population vents its anger over the assassination of Martin Luther King, and James Brown is scheduled to play the Boston Garden this very evening. Fearing a riot of his own, the mayor wants to cancel; his advisors insist a cancellation would be the worst course of action. The answer: bill the event as a memorial to MLK and televise it. Oh, but did anybody inform Mr Brown?!?! The highly charged atmosphere of the Garden show is still palpable, in spite of the archive footage being rather flatly shot. The conflicting accounts of Brown's demands for $60,000 in compensation - for the poor ticket sales resulting from his concert being televised - are very amusing.
½
Taped during his historic April 5, 1968 show only 24 hours after Martin Luther King's assassination with cities burning across America and angry riots raging in the streets. The scheduled appearance there was turned into a televised memorial concert and an opportunity to relieve tensions in a peaceful way. The mood is initially tense as Boston's councilman Thomas Atkins and the city's mayor Kevin White introduce Brown while urging everyone to honor Dr. King's legacy of non-violence. Then James Brown takes the stage and performs full-throttle for over an hour. This is an amazing document of what is perhaps the most important performance of James Brown's career. What almost turned it into a disaster comes in the latter minutes of the concert. With people crowding forward and starting to climb onstage, Brown's security men shove them back one by one and are soon joined by Boston police in flinging people off the stage. Brown calls a halt to this with the assurance that he can handle his people, but in no time is surrounded by a swarm of rowdy fans who refuse to back off. Brown strongly expresses disappointment and demands they show him some respect along with respect to themselves. James Brown's role as one of the most influential leaders of the civil rights movement and a racial ambassador helped to bring people together when it seemed the world was falling apart.
El Hombre Invisible
Super Reviewer
The Night James Brown Saved Boston Quotes
There are no approved quotes yet for this movie.
Discussion Forum
Discuss The Night James Brown Saved Boston on our Movie forum!