Oil Factor: Behind the War on Terror
(2005)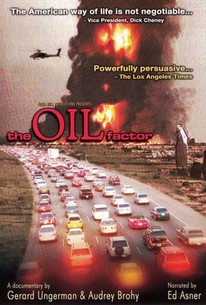 Movie Info
Experts have estimated that at the current rate of production, the United States and Europe will exhaust their supplies of oil by the year 2010. Meanwhile, the nation of Iraq holds the world's second largest reserve of oil, representing nearly three-quarters of the Earth's current petroleum supplies. As the United States and Great Britain mount an ongoing war in Iraq that has eliminated their former government and established a new one in its place under American watch, is it a coincidence that Iraq holds a massive supply of a strategic resource America badly needs? Especially given the fact that a number of the key reasons the United States had presented for going to war (most notably Iraq's alleged stockpile of weapons of mass destruction) have turned out to be based on false information? The Oil Factor: Behind the War on Terror is a documentary that examines America's continuing thirst for oil, how it has impacted the War in Iraq, and who stands to get rich (and who stands to lose more than mere money) as the battle wages on. The Oil Factor includes interviews with former defense department advisor Zbigniew Brzezinski, author and linguist Noam Chomsky, former Pentagon analyst Lt. Col. Karen Kwiatkowski, and many others.
Rating:
NR
Genre:
,
Directed By:
Written By:
In Theaters:
On DVD:
Runtime:
Critic Reviews for Oil Factor: Behind the War on Terror
Audience Reviews for Oil Factor: Behind the War on Terror
The most interesting part of this film is the on the streets footage of Baghdad and surrounding areas. I guarantee you've NEVER seen this on network TV. Lots of interesting interviews and speculations about overall USA/ Oil Companies long range goals for explotation of oil of not only Iraq but also the region and the ongoing strategic games between USA- China and Russia. The film makers did bungle a page out of The Peak Oil Theory play book as they speculate by 2010 North American oil production and resources would be depleted.
Bobby Diablo
Oil Factor: Behind the War on Terror Quotes
There are no approved quotes yet for this movie.