The Perilous Fight
(2003)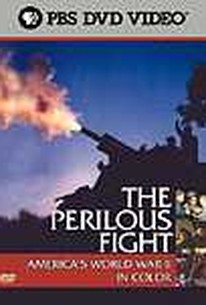 AUDIENCE SCORE
Critic Consensus: No consensus yet.
Movie Info
View World War II from a unique perspective via archival audio, radio broadcasts and diary passages. Narrated by Martin Sheen, The Perilous Fight is a vivid look at America's role in this worldwide conflagration and bears witness to the heroism of "The Greatest Generation."
Rating:
NR
Genre:
In Theaters:
On DVD:
Critic Reviews for The Perilous Fight
There are no critic reviews yet for The Perilous Fight. Keep checking Rotten Tomatoes for updates!
Audience Reviews for The Perilous Fight
World War II Was in Colour We think of Korea as the first war filmed in colour, I think, but it would be far more accurate to say that it was the first war mostly filmed in colour. This documentary actually starts with a very brief clip of colour footage of the victory celebration of World War I. Not tinted, the way some films of the era were--actually filmed in colour. It's as surprising, I think, as the idea that there is actually film footage at all of the Spanish-American War, though there is. I think part of this is that we have a hard time putting together a chronology in our heads of overlapping genres, if you know what I mean. It's like how, in my head, the 1906 San Francisco earthquake is still the Old West, even though Einstein published his papers the year before. We know, those of us who know film, that there was colour film in the early '40s, but we still don't make that connection in our heads, no matter how obvious it is. This is a collection of colour footage, primarily American but some from other countries, of World War II. It has been arranged into roughly chronological order--as usual, the European and Pacific theatres are separated--and given narration. The rough historical outline is presented, in the American, by Martin Sheen. However, we also have some period recordings. Some of the narration is the diaries, letters, and so forth of people who were there but read by modern voice actors. (None of whom are identified on the IMDb page.) It is in four parts, but of course, World War II was so complex an event that there still isn't time to linger on anything. We get some original Nazi footage showing persecution of the Jews, and we get a little bit of the liberation of the camps. We get essentially nothing from the Japanese perspective, but we get some of the internment and plenty of the battles in the Pacific. We get the homefront and the battlefield. More and more, our history is told in images. I mean, I am kind of concerned at the thought of history as told by Twitter feeds and Facebook and so forth. That's not the most pleasant thought I've ever had. However, we also have more images, both moving and still, taken of us than any generation before. I am personally more likely to be the one behind the camera than the one in front of it; I find the camera fascinating, and an extremely useful tool. However, there's more to it than that. An unaltered image is more reliable than memory. Memory changes. The images I watched will still be the same long after I am dead. Oh, it's still easy to lie with images, be they moving or still, and certainly it's easy to alter them, though that seldom goes unnoticed. However, for the first time in human history, we have a mode of history that can be considered objective. What surrounds the image is still subjective, but we know for sure what happened in a specific moment, because we photographed it. Still, I also think we spend too much time on World War II. Yes, I confess--I'm writing a book set during World War II myself. I admit it. However, my choice of setting is as much due to the style in which I am writing as anything else. It's also set in Los Angeles, which is a bit less well covered that Guadalcanal or Normandy. However, we have a fascination with World War II as a society that's hard to explain. Both A&E and The History Channel went through periods of being The Hitler Channel--all World War II, all the time. However, they would not have been able to do that had there not been the viewership. (And, yes, I'd rather World War II than ancient aliens; at least Hitler demonstrably existed.) Spike Lee has grumbled that it's impossible to beat the World War II documentary to the Oscar, and that's broadly true. (Though only broadly.) Kate Winslet won her first and, so far, only Oscar for the World War II-themed movie. We are obsessed, and I don't think it's going to end soon. Still, it would be less of a problem if more of the documentaries were as good as this one. I saw a documentary about D-Day, or the beginning of one anyway, a while ago that was about the influence of God and chaplains on the battle. Without letting us know on the box that it was all we were going to talk about. I have no problem with examining one small aspect of the war; that's probably a better way of doing it. The whole war is too broad a subject to analyze in a single film, even if it's four parts as this one is. This is a decent overview, but I'd rather like us to move on from decent overviews of the war. Either talk about something else for once or else find something, one small thing, to focus on. This film wants us to be aware of all the colour footage, and that's great, but it also wants us to know that there was pretty much a ton of it. What's more, aside from a brief mention of John Ford, we don't really talk very much about the photographers, which is an interesting subject in and of itself.
Edith Nelson
The Perilous Fight Quotes
There are no approved quotes yet for this movie.
Discussion Forum
Discuss The Perilous Fight on our Movie forum!