The Pilgrim
(1923)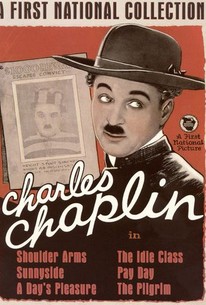 AUDIENCE SCORE
Critic Consensus: No consensus yet.
Movie Info
In the final film of his First National contract (an early working title was The Tail End), Charlie Chaplin spoofs small-town life and morality. Chaplin is an escaped convict who steals the clothes of a swimming minister. At the railroad station he nearly gives himself away by guiltily running away from an eloping couple who want him to perform an impromptu wedding. He boards a train and travels to a small town, Devil's Gulch, Texas, where he is welcomed by his congregation, who have never met the new reverend they've been expecting. He meets the townsfolk and is enchanted by Edna Purviance, in whose house he will be boarding. Chaplin arrives just in time for church services and on the way he picks a liquor bottle from the pocket of a large Deacon, only to have it break when they both slip on a banana peel. The Deacon thinks that the spilled whisky has come from his pocket. The plucky fugitive goes along with the ruse and after seeing to the church collection, pitting one side of the congregation against the other in competition to see who contributes the most, he gives a wonderful sermon in pantomime -- the story of David and Goliath. His story is so effective that a young boy breaks into wild applause which Chaplin acknowledges with the aplomb of a seasoned theatrical. At the home of Purviance and her Mother, his impersonation is severely tested by a visit from a couple with a mischievous child, Dinky Dean Riesner. (In later recollections Riesner tells of how he had to be cajoled into punching and slapping his "Uncles" Charlie and Syd, something abhorrent to him in real life). A stroll with Purviance through town brings him face to face with a former cellmate, who is invited home for tea by the unsuspecting Purviance. During the visit he observes the hiding place of Mother's mortgage money and Chaplin valiantly but unsuccessfully tries to prevent the crook from stealing it. When the thief escapes, Chaplin gives chase, but the sheriff, by now aware of Chaplin's identity as an escapee, causes everyone to believe that the two are in league. Chaplin however, overpowers the crook and returns the money to Purviance. When the Pilgrim's true intentions are revealed, rather than arresting him, the sheriff escorts him to the Mexican border. He orders the fugitive to pick a bouquet of flowers. When Chaplin obeys, the sheriff boots him across the border and takes off, leaving him stranded between warring bandit factions on one side, and arrest as a fugitive on the other, slowly walking into the sunset with one foot in Mexico and the other in the USA.
Rating:
NR
Genre:
,
Directed By:
Written By:
In Theaters:
Runtime:
Studio:
Associated First National Pictures
Critic Reviews for The Pilgrim
All Critics (1) | Fresh (1) | Rotten (0)
This excellent comedy was a transitional film that led the way to Chaplin's greatest films.

Ozus' World Movie Reviews
Audience Reviews for The Pilgrim
½
Has some good moments, but doesn't go far enough with poking fun at small-town morals. The little western ballad about going to Texas was written by Chaplin, but the version recorded in the '70s that I think was accompanying the VHS copy I watched seemed out of place. Charlie Chaplin's brother Syd plays multiple roles. Mack Swain and Loyal Underwood are large and small deacons from the congregation, who are expecting their new parson at the train station. Tom Murray is the town sheriff. Purviance is a girl from the congregation. And Charles Reisner is a local crook. Based on the quick glimpse of Chaplin's wanted poster, I think his character was actually known as Lefty. From the first time we see Lefty he is disguised as a preacher. Immediately he is tested by having to lead a church service. He gives an amusing pantomime of the David and Goliath story and watches the congregation's tithing carefully. When he meets the church member and her daughter (Purviance), who will give him room and board, he decides to turn over a new leaf. Reisner's character, who goes by many aliases, recognizes Lefty from time they spent in jail together. Lefty constantly keeps an eye out for the sheriff and now he needs to make sure the other crook doesn't ruin the nice situation in which he finds himself. There are a handful of good physical gags, yet despite the longer run time, the characters and story do not feel like they are developed as fully as they could be.
Byron Brubaker
Super Reviewer
This is another Chaplin film dealing with a touchy subject, religion, and still being hilarious without being offensive to anyone as well. This was his last short for First National and was an early indication at how his style had developed and progressed and a basis for what his feature lengths would entail. Charlie is mistaken for a minister when indeed he is a wanted man, albeit one with a good conscious and he demonstrates it when fighting off a robber from his border's house. Eventually he is knocked out and the money stolen but he goes after the crook and through some clever devising gets the money back and returns it to it's rightful owner. A policeman has no choice but to arrest him but shows mercy in light of his good deed and lets him out at the Mexican border so he can stay a free man. Of course the second he steps over three men come out shooting at one another and Charlie takes off hopping between both boundaries away from the chaos.
Chris Browning
Super Reviewer
An escaped convict is mistaken for the new pastor of a Western town. As with most Chaplin shorts it's basically a series of gags strung together - but built around a slightly stronger than usual plot.
Michael Harbour
The Pilgrim Quotes
There are no approved quotes yet for this movie.