The Red Beret (Paratrooper)
(1953)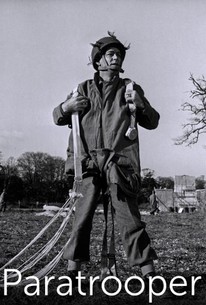 AUDIENCE SCORE
Critic Consensus: No consensus yet.
The Red Beret (Paratrooper) Photos
Movie Info
After causing the needless death of another officer during a near-miss air disaster, a distraught army officer resigns from the military. Still, the American wants to serve in the war effort and so, calling himself a Canadian, enlists in the British military to train as a paratrooper. Revealing nothing about his past, he proves himself obedient and exceptionally skilled. This rouses the suspicion of his commanding officer who starts investigating the trooper. Later, the trooper more than proves himself during a dangerous mission to North Africa.
Rating:
NR
Genre:
Directed By:
Written By:
In Theaters:
Runtime:
Studio:
Columbia Pictures
Critic Reviews for The Red Beret (Paratrooper)
There are no critic reviews yet for The Red Beret (Paratrooper). Keep checking Rotten Tomatoes for updates!
Audience Reviews for The Red Beret (Paratrooper)
½
Interesting WWII romance drama with Alan Ladd of the States re-enlisting in the Canadian armed forces. While not up to our standards today visually, Alan Ladd shines in this man with a mysterious past. [img]http://t2.gstatic.com/images?q=tbn:ANd9GcQKD8jPCX2R88d8tJNtvq2nPWbo9Q5fdM7_SoJrvwGGtTq7oe-6[/img] What's particularly interesting about this film is that it was co-produced by the now legend James Bond producer Albert Broccoli. Broccoli is most notable as the producer of the many early James Bond films. [img]http://upload.wikimedia.org/wikipedia/commons/5/57/AlbertBroccoliPass.jpg[/img] He and Harry Saltzman saw the films evolve from relatively low-budget origins to large-budget, high-grossing extravaganzas, and Broccoli's heirs continue to produce new Bond films. [img]http://t3.gstatic.com/images?q=tbn:ANd9GcTwHFIR9XBH4phMBRXdNTqMWhKswnKa2F7yMhYI3c2uFaD2kpyH[/img] While Red Beret is largely a WWII British army film, it becomes largely a backdrop to a romance story. Ladd's character known as "Canada", while of course talented from previous military experience unknown to the British, earns a promotion to be an officer. But Ladd declines the "honor" claiming he takes orders and does not give them. SEE the entire film here: http://www.youtube.com/watch?v=2mnRXN3u318&list=PLEE54950D026DAC24 [img]http://upload.wikimedia.org/wikipedia/en/thumb/f/fc/Redberpost.jpg/220px-Redberpost.jpg[/img] NOTES: 1 The Red Beret title comes from the movie story itself. The British adopt a red beret for the paratroopers over the previous green hat of the day. Doesn't seem particulary a good title in that it really doesn't say much about the film. 2 The film cost US$700,000 to make and grossed US$8 million worldwide. 3 Ladd was paid US$200,000, first class travel and accommodation for himself, his wife, their four children and their nurse, and 10 per cent of the gross receipts over US$2,000,000 for his eleven weeks work filming The Red Beret. Since the film grossed 8,000,000... that 10% means Ladd pocketed 600,000 OR put another way, 3 times more than his original salary for the film. Not bad for a film no one remembers today. Remember, these were 1953 dollars! 4 Ladd's most popular and critically acclaimed film Shane though filmed earlier was also released in 1953 making him a prime box office attraction. [img]http://t0.gstatic.com/images?q=tbn:ANd9GcS3N0_LFv-TX2s8dRhOOfazA7KWkFl73BdFlfglgBWQcmpeeZnATg[/img] Cast Alan Ladd as Canada Leo Genn as Major John Snow (based on Colonel (then-Major) John Frost) Susan Stephen as Penny Gardner Harry Andrews as R.S.M. Donald Houston as Taffy Anthony Bushell as General Whiting (based on General Browning) Patric Doonan as Flash Stanley Baker as Breton Lana Morris as Pinky Tim Turner as Rupert Michael Kelly as Dawes Anton Diffring as The Pole Thomas Heathcote as Alf Carl Duering as Rossi John Boxer as Flight Sergeant Box [img]http://t3.gstatic.com/images?q=tbn:ANd9GcSZGL5s4zWxqB5ko9CgZmzwX2MiaM44bOPbKxG2lWeFJ6aC7o4EUw[/img] Alan Ladd wearing the new red beret hat Directed by Terence Young Produced by Irving Allen Albert R. Broccoli (of James Bond fame, see NOTES) Written by Richard Maibaum Sy Bartlett Frank Nugent partly based on a book by Hilary Saint George Saunders Music by John Addison Cinematography John Wilcox Editing by Gordon Pilkington Studio Warwick Films Distributed by Columbia Pictures Release date(s) 11 August 1953 (UK) Running time 88 min Country United Kingdom Budget US$ 700,000 Box office US$ 8 million (world wide) [img]http://t1.gstatic.com/images?q=tbn:ANd9GcQduCLT0ta_yEhYH4i2_mPK4Kx8yRD3C7iNv4GLf8Ah6XGGb75_[/img]
monsieur rick
The Red Beret (Paratrooper) Quotes
There are no approved quotes yet for this movie.