The Scheme
(2003)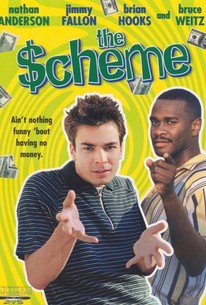 AUDIENCE SCORE
Critic Consensus: No consensus yet.
Movie Info
When three horny friends discover that the lusty daughter of a local politician is aching to experience her first sexual encounter, they quickly swing a deal with a sleazy tabloid to get pictures of the act and turn an easy profit in an outrageous sex comedy starring former Saturday Night Live newsman Jimmy Fallon. A stolen letter has revealed that the popular Catholic-school girl and politician's daughter is ready and willing to lose her virginity. When bumbling, would-be Romeo Ray (Fallon) determines to help her make her dreams become a reality while turning a profit at the same time, his simple plan becomes a tangled mess as an enraged publisher pushes him to meet his deadline and he finds himself falling for his slightly less-than-innocent target.
Rating:
R
Genre:
Directed By:
On DVD:
Runtime:
Cast
Critic Reviews for The Scheme
All Critics (2) | Fresh (0) | Rotten (2) | DVD (2)

Audience Reviews for The Scheme
Upon seeing the cover for The Scheme at our local movie rental store, my friends and I were compelled to rent it. This movie is one of the worst movies we have ever seen. To call this movie bad is an insult to bad movies. The poor acting, terrible writing, and awful camera work demonstrate that this film is awful in every aspect of filmmaking. In fact, it is so bad that it actually becomes enjoyable (when Jimmy Fallon ran into the bus I fell out of my chair). What continues to baffle us is not how this movie was made but when it was made. The DVD was released in 2003 but the technology present in the movie is from 1995 (they use an over the shoulder fullsize VHS camcorder and there is never evidence of cell phones or computers). One possibility may be budget constraints but I'm fairly certain that the film was actually made in the mid 90's and was shelved until Jimmy Fallon became famous enough. Regardless, this movie will make you laugh because it is such a blight on American filmmaking. For that reason alone, give it a watch.
Philip Stanley
The scheme. WOW. I've watched it like three times this week alone. It is the most brilliantly horrible movie I have ever seen in my life. It is one of those movies that is so bad that its HILARIOUS which makes it awesome. The cover of the box alone makes the movie deserve the 10 rating but on top of that the ridiculously horrible acting and shitty script makes this movie AMAZING. Things that make absolutely no sense like the dropping of the baby doll in front of the mailman really pull the movie together. THIS MOVIE CHANGED MY LIFE!
Tim Mannion
Cheap and inane comedy, insultingly bad. Very poor score, not well edited at all and the camera work is unprofessional. The acting is downright bad. Dreadful.
James Higgins
Discussion Forum
Discuss The Scheme on our Movie forum!
News & Features