The Shunned House
(2003)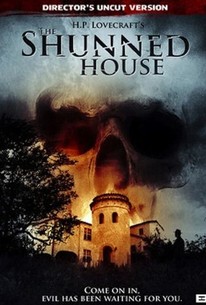 AUDIENCE SCORE
Critic Consensus: No consensus yet.
Movie Info
An ancient evil stalks curious young couple Alex (Giuseppe LoRusso) and Rita as they explore a derelict inn that was previously the scene of several gruesome murders.
Rating:
R
Genre:
Directed By:
Written By:
In Theaters:
On DVD:
Runtime:
Studio:
Studio Interzona
Critic Reviews for The Shunned House
There are no critic reviews yet for The Shunned House. Keep checking Rotten Tomatoes for updates!
Audience Reviews for The Shunned House
Ivan Zuccon continues his career of making confounding films out of HP Lovecraft's stories. This time, three of HPL's works find their way into his grasp, this film being a hybridization of The Shunned House, The Dreams in the Witch House, and The Music of Erich Zann. Shot straight to video (although the video quality isn't bad) with Italian actors speaking English -- sometimes seemingly phonetically and always difficult to understand due to heavy accents. The narrative structure in The Shunned House is such that it quickly becomes difficult to follow, lurching precariously back and forth through time as a paranormal investigator and author discovers that a ruined hotel is the nexus between various dimensions of evil, opening gateways for supernatural beings whenever blood is spilled in the place. That's where The Music of Erich Zann comes in, although here Zann is a woman named Carlotta. She's mute because her tongue was cut out and when her fiddle breaks she chews the skin off her own wrist to play her music on her tendons -- in flashback. Flashbacks dominate the story, and if one doesn't pay close attention it's hard to tell what is happening in which time. Handled skillfully, this could have added to an atmosphere of madness, but Zuccon hasn't developed that sort of cinematic dexterity and it turns the film into a mish-mash. There are some good points, too. Despite cheap special effects, there are a couple of effective horror scenes, and having a sort of malevolent mildew as the villain is a nice touch. Watching Zuccon's films, I get the impression that he gets Lovecraft. In its lucid moments, The Shunned House does manage to capture the feel of HPL's literature. It does, at times, manage to imply horrors that one can't actually see on the screen and even the subtle idea that they can't be seen because they're too awful to comprehend. It's just that Zuccon lacks both the directorial skill and the kind of budget that allows that aura of terror to come through all the clutter in a way that results in a coherent film. With the right assistant and a real budget, I'd wager that Zuccon *could* make a great Lovecraftian feature, and he has come close once (Colour from the Dark, made five years after The Shunned House). This particular flick, though, is probably best left aside by all who find confusion a cinematic turn-off and who are looking for good acting. If you're driven to watch every horror film based on Lovecraftiana, like me, check it out but keep your expectations low. If not, then don't. The DVD version that I watched, BTW, has burned-in Spanish subtitles and no option to turn them off. I found this an additional annoyance; I had to strain to understand what the actors were saying in English with their thick Italian accents, and the subtitles made it even more difficult to do so. If you can find a non-subtitled version, I'd suggest watching that instead unless your Spanish is at least as good as your English.
Brian Seitzman
The Shunned House Quotes
There are no approved quotes yet for this movie.