The Singles Ward
(2002)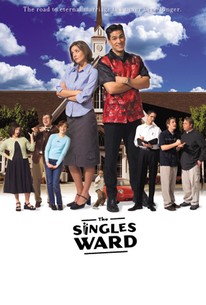 Movie Info
Kurt Hale's romantic comedy The Singles Ward is about a Mormon learning to get back into the singles scene. Jonathan (Will Swenson) is a stand-up comic whose recent divorce has made him lose faith in his Mormon beliefs. This questioning works its way into his stand-up act. However his attitude begins to change when he meets and falls for Cammie (Connie Young) the woman who leads a prayer/special group of unmarried Mormons that Jonathan becomes involved in.
Rating:
PG (for mild thematic elements and brief language)
Genre:
Directed By:
Written By:
In Theaters:
On DVD:
Box Office:
$1,136,236.00
Runtime:
Studio:
Critic Reviews for The Singles Ward
Audience Reviews for The Singles Ward
½
Halestorm showed a lot of promise with this first movie, an excellent one for those who want to understand the LDS faith and for those who are already members.
Steven Josephson
[font=Times New Roman]Ok if you understand how you feel when you see a cheezy comedy but still....it makes you laugh and cry and junk...Than that's what you got here. The SIngles Ward was the first Comedy About Mormons, for Mormons, by Mormons.[/font] [font=Times New Roman][/font] [font=Times New Roman]In a Ferris Bueller type narration, a man named Jonathan Jordon, a member of the Church, has slipped down that path of Church inactiveness. So it's obvious the ward is trying to reach out...and in a montage of scenes we see how many ways they usually try to, and what Jonathans responces are. We first see"We're having a ward Barbeque! THought you might like some Chicken..." (the line is said hilariously and the facial expressions knock you out), The next we see "Our releif society baked some cakes and we thought you might want one!" and The other is "Hey Brother, Our wards going Paint Balling we thought you might wanna join us". His responces...In order are...[/font] "Oh sorry...I'm a vegetarian", "Oh....sorry guys I'm on a diet", and "I'm not allowed to handel fire-arms...I dunno if Paint Ball guns count but I can always ask my probation officer". All in all though...their is a romace story thrown in with this quirky comedy....and it's Hilarious... 8/10 FREsh
Fritz Stephey
½
I thought this Movie Was SOOOO Super Cute and Really Funny :) :) :) Loved it :) :) :) it makes me miss the church again I think I am going to start going to the Church of Jesus Christ of Latter Day Saints again I was stupid for leaving to begin with
Rebecca Rains
The Singles Ward Quotes
There are no approved quotes yet for this movie.