The Soviet Story
(2008)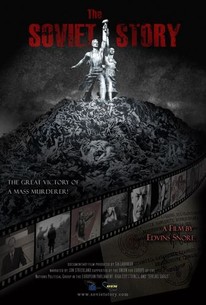 AUDIENCE SCORE
Critic Consensus: No consensus yet.
The Soviet Story Photos
Movie Info
Investigates claims the Soviet Union helped Nazi Germany instigate the Holocaust. Featuring recently uncovered archive documents and interviews with former Soviet military intelligence officers, the impact of the Soviet legacy on modern day Europe is also discussed.
Rating:
NR
Genre:
, ,
Directed By:
Written By:
In Theaters:
Runtime:
Watch it now
Cast
Critic Reviews for The Soviet Story
There are no critic reviews yet for The Soviet Story. Keep checking Rotten Tomatoes for updates!
Audience Reviews for The Soviet Story
½
An excellent documentary that covers the Soviet atrocities, as well as elements of Communist ideology, that have been largely ignored by Western media. Like any documentary, it had its problems. While there were similarities between Nazism and Communism, they were also pretty different. And today's Neo-Nazis and Commies consider each other the enemy. So the claim made in the film that today's Neo-Nazi movement in Russia is because of Communism is a bit of a stretch. The real reason there are so many Neo-Nazis in Russia is because of hard economic times, which they generally blame on Communism. Same reason Greece is beginning to embrace Neo-Nazism. Hard economic times breeds extremism. Still, how many films out there point out that Marxism originally advocated genocide? How many films talk about the Holodomor and the Gulag camps? And how many films acknowledge the dirty little secret that America and Britain knew exactly what was going on in the Soviet Union when they teamed up with Stalin to take on Hitler? The Soviet Story is a long time coming. Despite its flaws and slight inaccuracies, it's a very good documentary that should be viewed by any history buff.
Alex Matarese
Super Reviewer
A good documentary that does the job of reporting on some of the lesser known crimes of the WWII era, yet equal if nor greater in brutality and horror. This propaganda documentary created by a group of people from nations that today bear intense Rusophobia (perhaps justified) speaks of the rise of Communist Russia, particularly the Stalinist period, and the similarity and links it maintained with Nazi Germany. It promotes the idea that it was in fact Socialist thinkers, particularly Marx, who were the originators of the later horrendous genocide committed by Hitler during WWII. That crime, murder and genocide are in fact intertwined with the revolutionary characteristics of Communism just as they are in Nazism. This is a rather hard thesis to hold together and the attempts at it are hard to really prove. It would flat out reject the notion that Marx, however much I disapprove of his ideas and however much I accept that he did have incredibly racist thoughts, was the originator of the concept of ethnic cleansing. Nevertheless, the documentary does piece together some very very interesting and horrendous qualities that are in fact present in socialist societies (the liquidation of the educated elites that is present in nearly every revolution for instance). Further it does a good job of showing an often very ignored reality: that Nazism (National-SOCIALISM) and Communism do in fact have many great common qualities, the newspaper article quoting Goebbels is very very interesting. The montage of common Nazi/Soviet ideological posters was a fascinating and entertaining part. The pieces on the Ukranian famine, Gulags, and various other massacres committed by Stalin that easily rival, and perhaps defeat, those of Hitler, are also welcoming to show since our focus is often so heavily weighed towards Nazi Germany that we forget the equally revolting crimes of Stalin's regime. The last quarter of the film becomes the very usual anti-Russian propaganda so common in nations like Poland and Latvia, where Rusophobia is high and anger remains over what was done. Perhaps the piece is justified, or perhaps it does damage to an otherwise strong documentary... who knows, I myself can't say that I am not biased in this department and saw it as justified. Either way, the crimes committed during WWII were not limited to Germany by a long shot. The mass murders of Stalin's regime, which began before Hitler and continued well after him, remain to this day unpunished. There is no Wiesenthal foundation for the criminals who perpetrated them. Soviet Russia, by virtue of being one of the Allied Powers, was cleared of all guilt... an all too depressing fact to come to terms with.
Ted Pilkati
Discussion Forum
Discuss The Soviet Story on our Movie forum!
News & Features