The Squeeze (The Rip-Off)
(1978)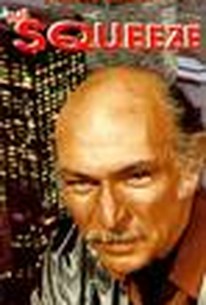 AUDIENCE SCORE
Critic Consensus: No consensus yet.
Movie Info
A fortune in diamonds is the quarry here when a thieving bunch try to pull the caper of capers. They enlist the services of a crack safecracker who concocts his own plan to make a get-away with the ill-gotten loot.
Rating:
R
Genre:
, , ,
Directed By:
Written By:
In Theaters:
On DVD:
Runtime:
Cast
Critic Reviews for The Squeeze (The Rip-Off)
There are no critic reviews yet for The Squeeze (The Rip-Off). Keep checking Rotten Tomatoes for updates!
Audience Reviews for The Squeeze (The Rip-Off)
½
This movie is from the BCI 10 Movie Set Men of Action, like al lot of BCI collections the Video Quality is lacking, but other then that we have a pretty good crime drama from 1978 that was filmed in the NY Area, and its good to see a film where the world trade center is still being shown and hasn't been cut out. The movie is about a retired safe cracker who has been in hiding and comes back to NY for one more job, Cracking a safe with diamonds, 2 other groups are working against him. Lee Van Cleef has left his spaghetti western roles to play Chris the safe cracker and while hold up in an apartment hiding from the law, Karen Black comes to his rescue, Karen was very attractive in this role as the seventies hippy chick. After 98 Minutes the ending has a real twist that I never expected. 3 1/2 stars
Bruce Bruce
Super Reviewer
[url="http://www.rottentomatoes.com/m/1019742-squeeze/dvd.php?select=5"][img]http://images.rottentomatoes.com/images/movie/coverv/35/215535.jpg[/img][/url] Another fun heist flick. Lee Van Cleef is great. Suspenseful story. Classic acting. Dated soundtrack.
M Sarki
The Squeeze (aka "Diamond Thieves", "Gretchko", "The Rip-Off" and "The Heist") Starring: Lee Van Cleef, Karen Black, Edward Albert, and Lionel Stander Director: Antonio Margheriti (or Anthony M. Dawson, depending on source) Chris Gretchko (Van Cleef), legendary but long-retired safe cracker comes out of retirement to help the son of an old friend (Albert) who needs to steal some diamonds for German gangsters to extract himself from trouble. He's barely arrived in New York City before the crossing and double-crossing begins and "the simple job" starts spinning out of control. "The Squeeze" is a pretty straight-forward crime drama, with a couple of surprising twists--surprising because most of the movie is so by the numbers that what might seem like a mild twist in other movies is quite surprising in this one. Still, the script is well-paced, the complications arising on cue, and the revelations of the various double-crosses, lies, and deceptions undertaken by the various characters are all handled well. The cast are all good, with Van Cleef (cool-beyond-cool, as usual, but in a role that fit his age... he was obviously a sensible actor who didn't try to hang onto the youthful tough guy parts past the due date) and Black (as a studiously ditzy New Yorker who ends up as Van Cleef's helper) being particularly excellent. The film, however, is severely crippled by a soundtrack that is so 1979 and low-budget Italian that it's painful. (There are also, if comments on www.imdb.com can be believed, some really badly edited pan-and-scan prints of this one floating around; the version I saw was in perfect shape, and can be found in the Brentwood DVD four-pack "Perfect Heists", along with three other classic heist movies.) If you can be sure you're not getting a chopped-up print, I think this is a fairly enjoyable film... it's not great, but it's good enough.
Steve Miller
Discussion Forum
Discuss The Squeeze (The Rip-Off) on our Movie forum!
News & Features