The Stone Tape
(1972)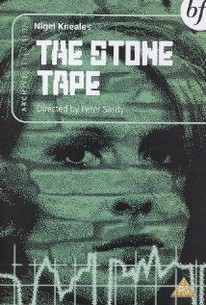 AUDIENCE SCORE
Critic Consensus: No consensus yet.
Movie Info
Peter Brock (Michael Bryant) has assembled a crack electronics team to work on his new project, a revolutionary recording medium that will render everything the Japanese have come up with obsolete. But there's a problem at their newly renovated facility: The crew won't work in the room that was supposed to be used for data storage. Peter and a few of his people go into the room, and discover some old cans of Spam left by the U.S. Army decades earlier, a stone staircase that leads nowhere, and a note which says, "What I want for Christmas is please go away." Peter's computer expert (and former lover), Jill (Jane Asher), is the only member of the team who sees something else -- a woman, dressed in white, standing at the top of the staircase, screaming. Soon the crew realizes that there's some sort of spirit inhabiting the room, and Peter thinks up a clever idea: Suppose the ghost (or whatever it is) is actually a recording of extreme human emotions once felt in the room, which is somehow imbedded in the stones of the room itself. Thinking he may have hit upon his revolutionary recording medium, Peter ignores Jill's qualms and pushes his crew to great lengths, using all sorts of technology, to find a way to manipulate the ghostly image. Written by Nigel Kneale (who wrote the Quatermass films, as well as The Entertainer and Look Back in Anger) and directed by Peter Sasdy, The Stone Tape originally aired on the BBC on Christmas in 1972. ~ Josh Ralske, Rovi
Rating:
NR
Genre:
Directed By:
Written By:
In Theaters:
Runtime:
Critic Reviews for The Stone Tape
All Critics (1) | Fresh (1) | Rotten (0)
At one time Kneale was a font of new ideas, but this play is mostly a reworking of some of the ideas from the much superior QUATERMASS AND THE PIT.

Audience Reviews for The Stone Tape
½
A top-secret team of electronics developers moves into new laboratories in a large country house which is undergoing extensive modernisation. After the ghost of a Victorian serving girl frightens off some superstitious builders before an essential piece of renovation has been completed, the scientists throw all their expertise and technology into analysing the manifestation. This highly regarded BBC TV production from 1972 was scripted by Nigel Kneale, who wrote a number of influential teleplays for the corporation, including an adaptation of 1984 starring Peter Cushing, the Quatermass series 1-3 (The Quatermass Experiment, Quatermass II and Quatermass and the Pit) and The Year of the Sex Olympics. I've seen this twice now and each time I've been surprised I haven't liked it a little better. It dates from that era when they used to shoot exteriors on film and interiors on videotape, with an irritating discrepancy in continuity every time one format switches to the other. What is it about videotape that makes cheap and nasty sets look even cheaper and nastier? There's something very stagy about the performances too, as if the actors were projecting for a theatrical audience rather than for television. Although the director, Peter Sasdy, made a couple of half-decent movies for Hammer, it's probably worth remembering that he also made the hilariously awful I Don't Want To Be Born, with Joan Collins. The most successful element of The Stone Tape is the marvellously spooky electronic soundtrack by the BBC Radiophonic Workshop. It's interesting to note that the somewhat similar The Legend of Hell House, made the following year, was also directed by a graduate of Hammer, John Hough, and featured electronic contributions to the soundtrack by the Radiophonic Workshop's Delia Derbyshire. A coincidence?
Slow, materialistic, meandering and cheap. Oh, and very very English. So many reasons for me to hate this movie, and yet I don't by any measure. There's a lot going on beneath the surface of Kneale's writing. And while I find it rather odd that this was at one time considred one of the scariest broadcasts ever, it is still rather enjoyable.
Bog Man , The
½
A freaky blend of supernatural and science...the plot weaves a ghostly tale that draws you in and holds your interest...a bit anti-climatic at the end but overall an original story...only problem I had with the acting is it appears as though they are on stage..everyone either shouts or talks too loud..with a larger special efx budget this film could really be something special!
The Stone Tape Quotes
There are no approved quotes yet for this movie.
Discussion Forum
Discuss The Stone Tape on our Movie forum!