The Suckling
(1990)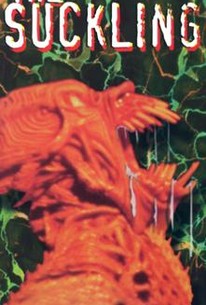 AUDIENCE SCORE
Critic Consensus: No consensus yet.
Movie Info
There are some interesting ideas kicking around this bargain-basement independent horror film, but its technical ineptitude almost makes it unwatchable. The plot concerns a young woman whose boyfriend drags her to an illegal clinic located in a brothel. The owner, "Big Mama," drugs the poor girl and aborts her fetus, which is then flushed down a toilet and exposed to toxic waste, mutating into a rapidly-growing monster. The young couple is trapped in the brothel with whores, Big Mama and a psycho named Axel (Frank Reeves in a memorably nasty performance), while the hideous beast picks them off one by one. The monster is semi-scary and the cast is quite good for this sort of film, but the technical flaws are numerous. The photography is absolutely horrible and often puts really bright lamps in the center of the screen, blinding the viewer and darkening most of the frame. The stop-motion work is laughable and the soundtrack is worse. Many sound effects are either overdone (listen to Axel count money) or missing entirely (several gunshots are completely silent). Still, for horror fans willing to forgive these amateurish lapses, there are enough intriguing moments here to make it worth a rental on a rainy day.
Critic Reviews for The Suckling
There are no critic reviews yet for The Suckling. Keep checking Rotten Tomatoes for updates!
Audience Reviews for The Suckling
½
A woman is brought to a brothel/back alley abortionist by her boyfriend and forced to have an abortion. The fetus lands in the sewer, is exposed to toxic waste, and goes on a rampage using it's claw tipped umbilical cord to dispatch everyone in the place. With a plot like that you know your in for something that could be either horrible, fantastic, or both. This is both. A very Tromaesque experience.
Shane Donnelly
Super Reviewer
THE SUCKLING IS BRILLIANT! A young couple go to a whorehouse that doubles as an illegal abortion clinic. The young lady, who is very hesitant, gets drugged and her baby is removed and flushed down the toilet. What follows next is one of the sleaziest and funniest moments as the dead fetus falls through the sewers and stops right under an area where a random barrel of toxic waste is leaking through the drainage onto the baby, causing a hilarious transformation that may just rival the infamous one in An American Werewolf in London. Soon, a lady gets her head taken off and everyone is trying to leave but the baby has covered all of the exits with what I can only assume is afterbirth, or placenta hardened to the point where everyone is trapped inside with a dead fetus mutant that becomes increasingly larger and deadlier by the minute. This film was classic! An utter masterpiece in sleaze and bad filmmaking, which still managed to keep me pretty entertained. The monster and prosthetic effects weren't even that bad, though I would have never guessed this film was from 1990 (it looks more like 1980!). My only concerns lie within the deaths where there were an usually large amount due to guns, rather than creature violence. Also, the baby "detransformation" was probably the weakest effects of the whole movie, though they did manage to make me laugh my ass off. Honestly, I'm mad at myself for not having watched this film earlier in life. Truly a cult classic!
Jason Duron
The Suckling Quotes
There are no approved quotes yet for this movie.
Discussion Forum
Discuss The Suckling on our Movie forum!