The Take
(2004)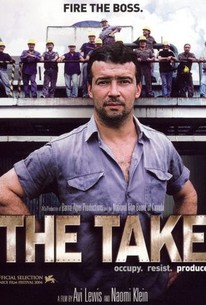 Movie Info
This is the story of working people who decide to fight back against a corrupt and brutal system. Against the backdrop of Argentina's historic economic collapse, the film chronicles the extraordinary story of workers and activists who take back their bankrupted businesses, and run them without bosses. To reclaim their lives and their dignity, they first have to face down the former owners, the trigger-happy police, and, in the midst of national elections, the prospect of a repressive government returning to power.
Critic Reviews for The Take
Audience Reviews for The Take
A factory closes down in Argentina amidst economic disaster, the workers try to make it their own. Good, topical political documentary released a few years ago. Puts a refreshingly humanistic approach to the debate on globalization, with great people profiled to boot: providers of their families, struggling to make ends meet under a desperate political climate. It's a wonderful, inspiring journey, and one of the more genuinely affecting "man vs the system" stories in film. Plus, I like Naomi Klein. If you think you will like this, you probably will, as it covers a very, very terrifyingly significant aspect of the economy rarely portrayed in mainstream media.
Lester Yabut
½
Brilliant, if naturally one-sided. Though, deciding to come down hard on one side of the political fence when the other side is utterly monstrous, is something to be applauded. Especially considering America's utter neglect toward the hemisphere in which we honed our brutalizing tactics... this documentary brings to light an event that is nowhere close to the spotlight of the international media, yet utterly essential to understanding how we might rise above our current problems.
Daniel Hetteix
Super Reviewer
½
Here is a story of the people. You think union histories are inspiring, look at what these workers did with an abandoned factory?
Nathan Swink
The Take Quotes
There are no approved quotes yet for this movie.
Discussion Forum
Discuss The Take on our Movie forum!