The Toll of the Sea
(1922)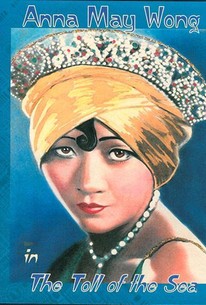 AUDIENCE SCORE
Critic Consensus: No consensus yet.
The Toll of the Sea Photos
Movie Info
This popular melodrama is based on Puccini's "Madame Butterfly."
Rating:
NR
Genre:
, ,
Directed By:
In Theaters:
Runtime:
Studio:
Technicolor Corporation
Audience Reviews for The Toll of the Sea
If you're familiar with the Madame Butterfly story the film holds nothing new storywise but this is a fascinating document being one of the earliest films shot in the two strip color process.
"the toll of the sea" is a historical gem for cinema for its avant-gardist usage of technicolor shooting, and it's literarily the first color movie ever..and it's also the debute for anny may wong as the major star in her acting career. practically this story is a revision of "madame butterfly", another interracial romance theme favored by the public in spite of its bigotry then, depicting its remorse and suppresed angst magnified by the inevitable tint of romanticism. the sceneries and the oriental set-design is phemonally striking. an american merchant rescued by a chinese gal along the fishing village, lonesome in an outlandish state, he romances her for the solace of companionship, so naturally it leads to the wed-lock of these two. but her existence is put into oblivion after he returns to his homeland. besides the sneering disaproval of his compatriots is not a pleasant thing to cope with...eventually he retreats into the bossom of his childhood sweetheart, the woman of his own kind. meanwhile this chinese woman still carries the torch of love in solicitude with the hybrid son he has left her, fantasizing her own american dream with the feeble naivete that she could evolve herself into the league of westernized ladies. then one day, this forgetful man comes the terms of scoring things right due to his caucasion wife's conscientious persuasion. so the hybridized seed could embrace his paternal land of america while his maternal chinese side is abandoned for good. supposedly, the movie takes a sympathetic but condescending perspect to the interracial romance, and there're sentimental indulgement, the neglectance of reality in it and certainly the oriental martyrdom. first of all, the notion of genuine interracial romance cannot exist in older days. mostly the reality of such interracial bond would be sexually desperate white soldiers sleeping with voluntary oriental prostitutes who crave for an immediate relief from poverty and a fast excess to america, women who desire to use men's guilibility for a way out. besides english was not a globalized language then so the whispers of love would be nonsense. so why it occurs a lot? men don't need a soul from women, and they just long for a oriental doll as sexual commodity. so all those tales of interracial romances in early ameircan cinema might just be men's self-aggrandizing fables to boast their superior manhood. the real sordidness wouldn't be shown on screen since no audience wanna self-willingly get disillusioned. second of all, wong character's yearning for america, such as dressing herself in the american lady is a of self-denial. in the movie, she even takes pride in having an american husband, the lady of a dignified gentleman, so how about her chinese family descendant? truthfully, anna mae herself is a thorough american despite her ethnic appearance, her oriental glamour is a stock sold as exotic interest for mass consumption. in ignorance of its inauthenticity, "the toll of the sea"could be masochistically romantic in a primitively feminie way. of course, anna mae is not to be blamed since that's the only type of roles available then in hollywood. the best value of "toll of the sea" would be its grandeur visual milestone in cinema.
Veronique Kwak
Super Reviewer
The Toll of the Sea Quotes
There are no approved quotes yet for this movie.