The Travelling Players (O thiasos)
(1976)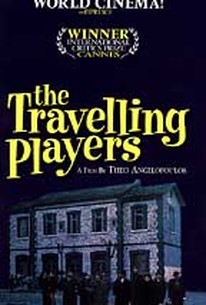 Movie Info
In 1952 a travelling actor's troupe roams the countryside performing a popular Greek pastoral play, which soon becomes a thinly disguised version of the "Oresteia." At the same time, their performances and lives are constantly interrupted by a year in which there is tremendous political change and they are forced to reflect upon their lives since 1939, the last time their country had a major political upheaval--the eve of entering World War II.
Critic Reviews for The Travelling Players (O thiasos)
Audience Reviews for The Travelling Players (O thiasos)
½
This is a VERY big film. It encompasses the various sentiments, turmoils, and livelihoods of the Greek people for more than a decade of one of the most troubled times of the past century. It shows how some people lived and some people simply got by during fascism, invasion, occupation, and civil war. All this by following a small group of actors. It's an ambitious work and not the easiest to watch, but a brilliant film nonetheless.
Michael Wilson
½
There is simply so much going on under the surface of this film that I am tempted to start it back from the beginning right now. I'm right on the verge of considering it a masterpiece but it's just to gargantuan to intake in one viewing. The story is wonderfully layered, organically shot and acted, and just all around bursting with little character details. This is only my second dive into Angelopoulos, but I'm surely going to jump again soon. My only minor complaint is the length can be felt harshly at times, but once the film ends and it all comes into place, you understand why it had to be this long.
Michael Stuhlman
Great movies can be long, and great movies can be slow, but when it's long AND slow, you better have a damn good reason for it. And Angelopolous does not have a good reason. Endless shots of people walking from one place to another. Another big stumbling block is that it requires some knowledge not only about mid-20th century Greece, but ancient Greek mythology. I won't deny that there are some interesting scenes. But the boring stretches in between are too great, and it's not worth the wait.
Martin Teller
The Travelling Players (O thiasos) Quotes
There are no approved quotes yet for this movie.
Discussion Forum
Discuss The Travelling Players (O thiasos) on our Movie forum!