The Undying
(2009)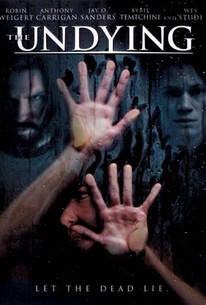 AUDIENCE SCORE
Critic Consensus: No consensus yet.
Movie Info
A doctor seeking to escape the stress of the city buys a new home in the country, and finds herself at the intersection of life and death as she struggles to resolve a supernatural mystery. Shortly after moving into her new home, Dr. Barbara Haughton (Robin Weigert) becomes obsessed with the Civil War soldier whose spirit refuses to rest in peace. When one of her patients at the hospital falls into a coma and dies, Dr. Haughton attempts to use his body as a vessel for the fallen soldier's spirit. She has fallen in love with the ghost, but when the patient awakens and begins to display violent tendencies, her metaphysical love affair threatens to yield disastrous consequences.
Critic Reviews for The Undying
There are no critic reviews yet for The Undying. Keep checking Rotten Tomatoes for updates!
Audience Reviews for The Undying
Boringly overdramatic. And what's with the horrible music and sound effects?? Also stupidly and hilariously overdramatic, right along with the acting. I don't think they meant for me to laugh so often at this movie.
Kit K.
One year after the accidental death of her fiance, Barbara (Robin Weigert) is trying to move on, even moving into an old historic Civil War-style home. She is informed by the caretaker that there's a ghost haunting the house - the spirit of a Civil War soldier who lost the love of his life. As Barbara dives head-first into her work as a nurse, she comes across a coma victim Jason (Anthony Carrigan), and she begins having dreams of Jason, as well as Elijah, the spirit who haunts the house. Elijah seems to be sending Barbara a message, and when it comes time to pull the plug on Jason, Barbara takes him to her home. The next morning Barbara is shocked to find Jason gone, but then he appears fully healthy - and not Jason anymore. Now he's Elijah, and Barbara tries to integrate him into normal society, and the two strike up a romance. However, not soon after this happens, a murder occurs. Then Barbara finds out exactly why Jason was in a coma, and his violent past. Now her friend is worried that Elijah might be Jason trying to escape his past, and Barbara's life could be in danger. The concept for the film wasn't bad. The acting itself wasn't bad either. But it was really boring in parts. The movie was almost two hours long, and it didn't need to be that long. Other than the obsessive length, it's a pretty compelling love story mixed in with some possibly sinister motives that will have you guessing.
Joe James
★1/2 (out of four) I like to give low budget ghost stories a chance. It takes a lot of hard work to put together a movie...even a bad one. But when all is said and done, "The Undying" is pretty much dead on arrival. A woman (Robin Weigert) has just lost her love to a traffic accident. She moves into an old house that is haunted by a Civil War era soldier, whose soul takes over the body of a young man she is helping treat at the hospital. She brings him home with her, but soon murders start happening. This is purely amateur hour. There are no thrills or chills, but there are plenty of unintentional laughs. [IMG]http://img.photobucket.com/albums/v48/Zeppo1/Undying.jpg[/IMG]
Steve Smith
The Undying Quotes
There are no approved quotes yet for this movie.
Discussion Forum
Discuss The Undying on our Movie forum!