The War on Kids
(2009)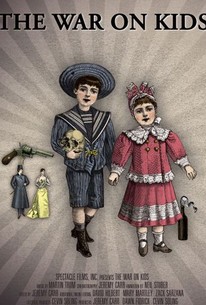 AUDIENCE SCORE
Critic Consensus: No consensus yet.
The War on Kids Videos
The War on Kids Photos
Movie Info
Filmmaker Cevin D. Soling details how irrational fears have transformed the public education system into a virtual prison in this thought-provoking documentary. With metal detectors, armed security guards, and prescription drugs, contemporary schools are safer than ever before -- or are they? Today's schools resemble high-security prisons more than they do hallowed halls of learning, but are decrees like the "Zero Tolerance" policy actually doing more harm than good by suspending kindergartners for playing cops and robbers? Are we overmedicating our children on the advice of pharmaceutical companies that have a vested interest in keeping school kids hooked on Ritalin? In 2003, the principal of Stratford High School in Goose Creek, SC, suspected that drug activity was taking place in his school, and called in the SWAT team. In the resulting raid, innocent students were terrorized and traumatized. Not only that, but during the raid, the SWAT team turned up no evidence of drug activity or illegal weapons whatsoever. By exploring this case, speaking with experts, and opening a dialogue with students, Soling attempts to discover just how we got to the point where regular students are considered guilty until proven innocent, and ponders what measures can be taken to ensure that future generations of Americans don't have their rights stripped away in order to get an education.
Rating:
NR
Genre:
,
Directed By:
In Theaters:
Runtime:
Studio:
Critic Reviews for The War on Kids
Audience Reviews for The War on Kids
½
The War on Kids is amongst the greatest documentaries I've seen. It shows the problems of the public school system in an outspoken point of view. It shows how our schools are modeled after prisons, and children are treated as prisoners. It is biased, but I agreed with everything that was being said. Which ranged from zero tolerance to the myth of ADHD. As a student myself maybe in 15 years I won't feel this film as much as I do now, but I hope that I will always recognize this message. Unless this message would be out dated in the future, which would be a great thing. The film even got me enraged at some points, especially when talking about the whole guilty until proven innocent approach. It was also lively and entertaining, full of energy, and even humorous. The people interviewed were animated, and knowledgable. It'd be an interesting day if this was shown to every high schooler across the nation.
Daniel Dolgin
Super Reviewer
It gets off to a slow start, but it ultimately raises some very good and disturbing questions about education today. It made me feel really sad for the kids who are in school, but also afraid for the future of the country.
Sarah Prisbylla
Super Reviewer
If you are a teacher, you are not gonna like this movie unless you can see the errors in the way that the school system really affects children in a negative way at the worst possible time. Nobody wants to fail a class or get held back, because the all wanna get done with school as quick a possible. Maybe we should make school more enjoyable, since a lot of kids now have bad parents. Just think about how stressed the homes are with economic issues, marital strife, poverty, single parents, etc.... Maybe school should be about education, fun, and adapting to other people and not just indoctrination into "The American Way"
david wilkins
Discussion Forum
Discuss The War on Kids on our Movie forum!
News & Features