The Whole Truth
(1958)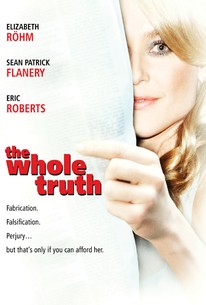 AUDIENCE SCORE
Critic Consensus: No consensus yet.
Movie Info
In this mystery, a movie producer gets bored with his wife and begins an affair with a fiery actress. In the end, he jilts his mistress and returns to his wife. The trouble begins when someone stabs the actress and he is labelled the prime suspect by a detective. Later the producer discovers that the actress is still alive, and that the detective was her husband. A real murder follows and the producer is arrested. His loyal wife launches her own investigation and proves that her husband was innocent. The real killer, the husband of the actress, ends up killed in a car wreck. ~ Sandra Brennan, Rovi
Rating:
NR
Genre:
, ,
Directed By:
Written By:
In Theaters:
On DVD:
Runtime:
Critic Reviews for The Whole Truth
There are no critic reviews yet for The Whole Truth. Keep checking Rotten Tomatoes for updates!
Audience Reviews for The Whole Truth
This film is about a married movie producer who is accused of killing the star of his most recent movie, who also happens to be his former mistress AND married herself, unbeknownst to the producer. I was hoping for a lot more than I ended up with. It started out well enough, with Stewart Granger going out a window and being chased on foot by police. It turns out that's the middle of the story. What leads up to that scene follows in the film, where the scene is replayed verbatim. I never could decide if this film was supposed to be drama or comedy...even black comedy would have been OK, but it didn't really seem to be that either. Part of the problem was the score, which was a beatniky jazzy mix that would have been right at home in some 60's detective TV show. Another thing that was interesting once but got irritating was some of the scene changes, which slid from scene to scene like a slide projector. As far as the story progression goes, we know early on that Granger isn't the killer. And the real killer is also established early on, with the idea of setting Granger up for the blame. But there are far too many coincidences of storyline and people appearing right where they need to be at the right time. I don't expect films to be real, but I do expect a certain amount of "realism" -- it needs to make enough sense to get me involved in the story, But through this I just kept rolling my eyes and thinking "yeah, right." And finally, what was up with that goofy ending!?! It's a surprise twist that's NOT a twist. It was completely unnecessary and just appeared as though they couldn't think of a good ending, so they threw this in at the last minute. The cast was OK. Stewart Granger has the combo of looks, elegance and arrogance that fits my impression of what a movie producer would be like. George Sanders as the dead woman's husband is suitably sneaky. Donna Reed didn't really have anything to do as Granger's wife, although one strand of the story made you think she might play an important part in resolving the mystery. That fell apart in one of the many coincidences. Gianna Maria Canale as the actress was OK, but since she was murdered before much of the film is gone, it's hard to judge her. I can only really recommend this to the most hardcore fans of George Sanders or Stewart Granger (Granger is the reason I wanted to see it in the first place). Otherwise, I'd say don't bother. See Scarmouche or King Solomon's Mines for Granger, and Rebecca or All About Eve for Sanders.
Villain George Sanders is creepy as ever. Cool music by Cleo Laine's spouse, Sir John Dankworth, who contributed to soundtracks of Saturday Night and Sunday Morning, A Taste of Honey, Modesty Blaise and Gangster No. 1.
Robert Underwood
Discussion Forum
Discuss The Whole Truth on our Movie forum!