The Woman in White
(1948)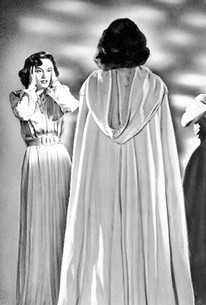 AUDIENCE SCORE
Critic Consensus: No consensus yet.
The Woman in White Photos
Movie Info
The Woman in White attempts to translate the archaic prose of 19th century gothic-mystery writer Wilkie Collins to the medium of film. Gig Young plays a 19th century painter who, while en route to a country estate, encounters a strange, ethereal young lady (Eleanor Parker) who both begs his help and insists that he keep their meeting a secret. He will meet the girl again at several crucial junctures -- though she will fail to recognize him. The painter has unknowingly stumbled upon a scheme by the diabolical Count Fosco (Sydney Greenstreet) to claim an inheritance on behalf of a dissipated nobleman (John Emery); the plan involves a marriage of convenience to the hapless lady of the house (Alexis Smith), blackmail, hidden siblings, and the suppression of a dark family secret involving Fosco's neurotic wife (Agnes Moorehead). The full plotline is far too labyrinthine to go into detail here -- in fact, it can barely be followed in the film itself. While The Woman in White suffers from excess verbiage, the film is at its best in its shadowy, nocturnal "conspiracy" set pieces and in the scenes with timorous aristocrat John Abbott, to whom every raised voice is a threat to his fragile health. And keep an eye on Sidney Greenstreet's pet monkey, Iago, easily the most well-adjusted character in the film.
Rating:
NR
Genre:
, , ,
Directed By:
Written By:
In Theaters:
Runtime:
Studio:
Warner Bros. Pictures
Critic Reviews for The Woman in White
There are no critic reviews yet for The Woman in White. Keep checking Rotten Tomatoes for updates!
Audience Reviews for The Woman in White
An artist meets the strange characters at an English estate where he begins to suspect that a visiting count has sinister designs on the family fortune and encounters a strange woman in white who bears an uncanny resemblance to the daughter at the manor. Although classified as a horror, this film should rightly be considered a mystery. The only elements of horror are madness and hypnotism and these are used sparingly, albeit effectively. The plot, ultimately, is a familiar one: swindling a young heiress out of her inheritance. The best thing about this film is the performance of the cast. Sydney Greenstreet is great as the menacing and scheming Count Fosco. It was one of his finest performances; equal to that in The Maltese Falcon. For those who love character actors, he's married to the character played by Agnes Moorehead, who gives one of her most restrained performances, and is also excellent. John Abbott is wonderful as the recluse/hypochondriac patriarch; evoking Vincent Price's portrayal of Roderick in Roger Corman's version of House of Usher except he plays it for comedic effect. Alexis Smith, Gig Young, Eleanor Parker and John Emery round out a fine cast of characters. One final point is the score by Max Steiner was excellent, used to dramatic effect in just the right places.
John Tandlich
the book this is based on was the first english sensation novels but most of its raciness has been left out.
Greg Wood
½
An eerie gothic tale of an heiress in Victorian England and the people who are trying to get her inheritance away from her. A young painter meets a mysterious woman in the woods who may or may not know the details of who, how and why, The cast was good, but Eleanor Parker should be especially noted for her portrayal of both Laura Fairlie and the "woman in white" Anne Catherick. The more I see of Parker, the more impressed I am. One curiousity is the character of Frederick Fairlie, played by John Abbott. He came across as a whiny version of Roderick Usher from Fall of the House of Usher. I'm not sure what his purpose was exactly, besides maybe comic relief. His physical presence wasn't necessary to the story, and could have been covered by dialogue. The film has the dark, foreboding look and feel of a Val Lewton film. It also reminded me a great deal of such films as Rebecca and Jane Eyre. I wanted to give it 4 stars, but it lost 1/2 because it got too convoluted in explaining itself towards the end.
The Woman in White Quotes
| | |
| --- | --- |
| Sir Percival Glyde: | A filthy night in a filthy world. |
| | |
| --- | --- |
| Marian Halcomb: | Thinking does no good. I've thought enough. |
| | |
| --- | --- |
| Countess Fosco: | I detest violence, so clumsy. |
| | |
| --- | --- |
| Frederick Fairlie: | You have no idea the tortures I should suffer, Mr. Hartwright, if Louis should drop that portfolio. |