The 15:17 to Paris
(2018)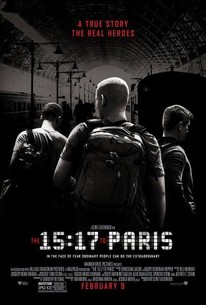 TOMATOMETER
AUDIENCE SCORE
Critic Consensus: The 15:17 to Paris pays clumsily well-intentioned tribute to an act of heroism, but by casting the real-life individuals involved, director Clint Eastwood fatally derails his own efforts.
The 15:17 to Paris Videos
The 15:17 to Paris Photos
Movie Info
In the early evening of August 21, 2015, the world watched in stunned silence as the media reported a thwarted terrorist attack on Thalys train #9364 bound for Paris, an attempt prevented by three courageous young Americans traveling through Europe. The film follows the course of the friends' lives, from the struggles of childhood through finding their footing in life, to the series of unlikely events leading up to the attack. Throughout the harrowing ordeal, their friendship never wavers, making it their greatest weapon and allowing them to save the lives of the more than 500 passengers on board.
News & Interviews for The 15:17 to Paris
Critic Reviews for The 15:17 to Paris
Audience Reviews for The 15:17 to Paris
An ineptly-written movie that doesn't know how to build momentum and cannot find a good reason to justify us watching the lives of these three people ever since they were kids, becoming only dull as we follow them in every single step of their trip until they finally get to the train.
Carlos Magalhães
Super Reviewer
½
The 15:17 to Paris is not a good movie and likely never should have been a movie in the first place. Prior to Gone Girl coming out in 2014 there was an interview with director David Fincher where he stated in regards to the adaptation process that, "The book is many things. You have to choose which aspect you want to make a movie from." This is likely what writer Dorothy Blyskal should have done were she to stand the chance of making a compelling picture out of the lives of the three young men that saved a passenger train full of people from being killed by a terrorist in 2015. There is no disputing what these guys did was heroic and that, if their story was going to be turned into a feature film, that it deserved to be a compelling one, but The 15:17 to Paris is not that movie. No, The 15:17 to Paris isn't really much of a movie at all despite the fact it could be looked at as one of great risk and ambition. Directed by Clint Eastwood, Blyskal's script decides to tell the broad story of the friendship between our three protagonists whom Eastwood decided to cast with the real heroes themselves rather than having actors portray them. Unfortunately, Blyskal not choosing an aspect of these guy's lives to zero in on and make a movie out of essentially separates the picture into two distinct halves: one being the military recruitment ad the first half functions as while the second forty-five minutes may as well be a European travelogue with the event we're all in the theater to see being tacked on in the last twenty or so minutes. This final sequence is the only part of the film that holds any real tension, any real drama, or hint of any real style that resembles that of a film produced by a major studio and made by an Academy Award winning director and actor. Of course, just as The 15:17 to Paris probably never should have been a feature film it was never going to be a feature film in the traditional fashion, but more one that solidified Eastwood is now making statements with his efforts rather than simply pondering and contemplating with his art. For Eastwood, The 15:17 to Paris is the definition of heroism; no qualms, no frills, no debate about it. That's fine and I can appreciate the choice, but defining a certain quality doesn't automatically make that representation of the same quality. Spencer Stone, Anthony Sadler, and Alek Skarlatos are heroes, no doubt, but their movie is (unfortunately) pretty terrible. read the whole review at www.reviewsfromabed.com
Philip Price
Super Reviewer
This was one of the most baffling bad movies I've ever seen in a movie theater. I want to start by saying that yes: the acting is terrible. The real-life heroes play themselves but that is the least of the problems in this "film." Clint Eastwood has gone off the rails with this one. With cringe-worthy dialogue and painful performances from all of the real actors, this movie left me with one conclusion, which I will get to later. Of the more baffling moments, there is a 20 minute sequence of the heroes traveling around Europe. All they do in this sequence is take selfies and order gelato. Nothing of any significance happens throughout this period of the movie. Honestly, the only redeeming quality of this movie is that these heroes got to take another trip to Europe. The scenes were clearly shot on location and allowed these guys to have an amazing vacation. This should have never been a nationwide release. Stay FAR away from this movie.
Hayden Boudreaux
Super Reviewer
The 15:17 to Paris Quotes
There are no approved quotes yet for this movie.