The Adventures of Tom Thumb and Thumbelina
(2002)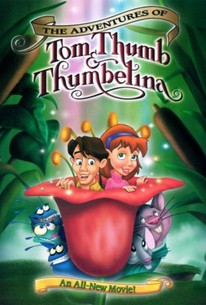 AUDIENCE SCORE
Critic Consensus: No consensus yet.
The Adventures of Tom Thumb and Thumbelina Videos
The Adventures of Tom Thumb and Thumbelina Photos
Movie Info
After being raised by a normal sized family, tiny Tom Thumb (voiced by Elijah Wood) sets out to find others of his diminutive stature. He happens upon Thumbelina (Jennifer Love Hewitt), a former circus performer, who is not only his size and age, but is also looking for others like her. But just as they meet Thumbelina is taken prisoner by the comically sinister Mole King (Peter Gallagher), who wants to make her his bride.
Audience Reviews for The Adventures of Tom Thumb and Thumbelina
½
This movie was okay, I guess, it was quite interesting though not faithful to the books. A few random scenes. Very ugly animation, artwork, and character design like Thumbelina looking like a toddler when she seems like she is supposed to be an older teen. The songs were too few for a musical and they are horrible to listen to.
Alexandria James
Maybe we could be on our own together. Tom Thumb and Thumbelina as children had their people chased out of the woods and they were kidnapped by humans. Tom and Thumbelina are very small, and definitely do not fit in human society; so as soon as they can, they leave the humans and start looking for their own people. They bump into each other in the woods and experience a wild adventure. "Where did the little girl come from?" "From under a leaf." Glenn Chaika, director of Thru and Moebius Strip and episodes of Ben & Izzy, deliver The Adventures of Tom Thumb and Thumbelina. The storyline for this picture is very entertaining and fun to watch unfold. The characters are entertaining and I really enjoyed the storyline. The animation was very average but the overall film is solid. The voices are provided by Elijah Wood, Jennifer Love Hewitt, Peter Gallagher, and Michael Chiklis. "I've never met anyone like me before." "Me either." My daughter and I watched this picture this morning off Netflix. I actually thought this was very entertaining and we loved the majority of this film. I didn't love the mole sub plot, but the tragic life Thumbelina lived was very well done. Overall, this is a very entertaining picture that is borderline worth adding to your child's DVD collection. "I was to see a chipper group of rejects smiling ear to ear." Grade: B
Kevin Robbins
when two classics clash. the added some of the thumbelina parts and tom thumb as well to make one story that really make this movie great.
Candace Nelson
The Adventures of Tom Thumb and Thumbelina Quotes
There are no approved quotes yet for this movie.
Discussion Forum
Discuss The Adventures of Tom Thumb and Thumbelina on our Movie forum!