The Alley Cats
(1966)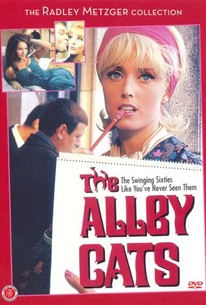 Movie Info
An early work from Radley Metzger, the king of elegant sexploitation in the 1960s, The Alley Cats blends a broad, soap-opera plot with Metzger's trademark fascination with lesbianism and bisexuality. Leslie (Anne Arthur) is engaged to marry Logan (Charlie Hickman), while Logan is fooling around on the side with Leslie's friend Agnes (Karin Field). Leslie has been playing the field as well, but when both Logan and her secondary lover of the moment, Christian (Harald Baerow), are both out of town, Leslie finds herself drawn into an unusual affair with the beautiful and mysterious Irena (Sabrina Koch). Set in Berlin (though the characters' accents don't sound terribly consistent), The Alley Cats features the fine photography, interesting production design, visual elegance, and tongue-in-cheek wit that set Metzger's work apart from most of his peers, though this film lacks the self-conscious artistry of Therese and Isabell and The Lickerish Quartet.
Rating:
NR
Genre:
, ,
Directed By:
Written By:
In Theaters:
On DVD:
Runtime:
Critic Reviews for The Alley Cats
All Critics (6) | Fresh (2) | Rotten (4)
It's soft-core, but it's soft-core with a certain, swinging style, and lifestyle archaeologists with an interest in the 60s won't want to miss it.
Think of Radley Metzger as Russ Meyer without the stones


Audience Reviews for The Alley Cats
½
Every once in a while you see one of those movies that make you go DAMN!! and it's even cooler when you're not expecting it. I just saw one and it was an adaptation of a Shakespearean tragedy where everybody lived! I've known about "All Night Long" for a long time. It's a 1961 British version of Othello set in the jazz world, which is a very logical setting when you think about it, at a wedding anniversary party. I wanted to see it mainly because it had Charles Mingus, Dave Brubeck, and Tubby Hayes playing in it. It all played out as usual with the Othello figure, a black bandleader strangling his wife and seemingly killing the Cassius figure by knocking him over a stair rail. The Iago figure, played by Patrick McGoohan, had been found out and was about to be strangled by "Othello" himself when all of a sudden the Desdemona figure, bruised and torn but not dead, pops up and screams "Stop!". Othello then stiffly examines his wife, goes back to Cassius who's also still breathing and being cradled by his girlfriend and begs his forgiveness. He then walks out into the night like a zombie with his wife calling his name and running after him. Remeber the year this was made, 1961. That was a tiime when interracial marriage was a taboo subject both in America and Britain and frowned upon by mainstream society, although it was an accpeted part of life in the jazz world. It made a far more powerful statement in that context for Othello and Desdemona's love to survive Iago's evil scheme. Added to that was the fact that "Cassius" is played by future Henry VIII, Keith Michell and that his girlfriend was black. The only white married couple in the movie are "Iago" and his wife who aren't exactly the pucture of happiness. She is the one who rats him out and at the end as "Iago", played brilliantly as a complete snake by Patrick McGoohan, sits alone after everyone else has left the party, mechanically playing his drums his wife comes to take him home and he spits out nothing but contempt and hatred for her and the entire world. When you talk about an interracial couple, especially in the Sixties, the "love conquers all" bit takes on much deeper meeaning. Having the leads survive may change Shakespeare but he never conceived of a world like the one this movie took place in. I don't even know the names of most of the actors in this picture, just McGoohan, Michell and Richard Attenborough, but it was amazing. That final shot of "Othello" and "Desdemona" walking along a pier in the night [u]together[/u] destroyed me. Once again, alll I can say is DAMN!!
Jerome Wilson
The Alley Cats Quotes
There are no approved quotes yet for this movie.
Discussion Forum
Discuss The Alley Cats on our Movie forum!