The American Nightmare
(2001)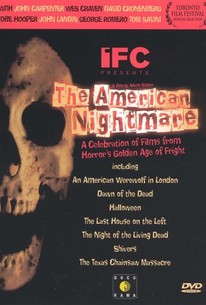 Movie Info
In the late '60s, the tone of American horror films began to shift in the wake of the startling success of George A. Romero's Night of the Living Dead -- horror films became gorier, bleaker, and began to subtly reflect the political and social upheaval gripping the country. Through the '70s and '80s, films like Last House on the Left, The Texas Chainsaw Massacre, and Halloween held a distorted mirror up to American culture, reflecting its fear and chaos in the wake of Vietnam and Watergate. The American Nightmare is a documentary that looks at the transgressive horror films of the '60s and '70s and the people who made them. Directors Wes Craven, Tobe Hooper, and David Cronenberg, special effects man Tom Savini, and film critics Tom Gunning and Adam Lowenstein are among those interviewed by director Adam Simon. The American Nightmare was produced for the premium cable outlet The Independent Film Channel.
Critic Reviews for The American Nightmare
All Critics (6) | Fresh (4) | Rotten (2) | DVD (1)
Although several segments will appeal to horror aficionados, it often feels like a political statement couched in a format that will appeal to the blood and popcorn crowd.
We've never had American horror as we did in the decade between Night of the Living Dead and Halloween (1978), no doubt because we've never had American history like that.
City Pages, Minneapolis/St. Paul
Audience Reviews for The American Nightmare
Doesnt quite doo too much in order to excell as a documentary, but it does enough to give all this infamous horror movies a social context that does shine some light on why these movies happen and how they affect people.
Pablo Gonzalez
FREAKING CLASSIC . . . the writer off to my right says to watch Nightmares in Red White and Blue. We are revisiting our nightmares and/or working through our fears by watching horror movies. Lots of good gore and explanation . . . now I want to see NIGHTMARES IN RED, WHITE, AND BLUE to compare the two. This movie is out-dated pre-9/11.
Gordon Terry
A good intro to select horror classics of the 70s. The best part of this documentary is that it is padded by interviews with the directors and film-makers. This group of film-makers examines the themes and subtext of their own and their peers' work, and how this greatly affected the path horror film-making took afterwards. Also, you might find a gem you haven't gotten around to yet.
_kelly .King
Super Reviewer
The American Nightmare Quotes
There are no approved quotes yet for this movie.
Discussion Forum
Discuss The American Nightmare on our Movie forum!