The Animation Show - Year 4
(2008)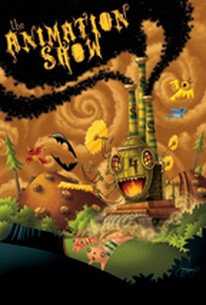 TOMATOMETER
AUDIENCE SCORE
Critic Consensus: No consensus yet.
The Animation Show - Year 4 Photos
Movie Info
The Animation Show is back with an all new collection of incredible independent animation! This year Mike Judge has gathered together over two dozen of his favorite funny short films from around the world. It's a ground breaking program of eye-popping adult animation from tomorrow's next great animators. This isn't a dirty "adults only" animation show but the program does skew towards a mature audience with some explicit language and adult subject matter.

This year the Animation Show has gone out to four incredible artists for some truly amazing new commissioned work. Kicking things off is the uber talented Joel Trussell with an epic viking Animation Show Intro. We highly recommend you head over to youtube to catch Joel's sensational video War Photographer for a little background on our guitar thrashing plunderers. Australian animator Dave Carter debuts three new commissioned shorts with the hilarious Psychotown. Dave continues his collaboration with the comedy team "The Nice Guy" here for a blend of cut out and stop-motion animation. Also featured is the stop-motion superstar PES who has been an Animation Show regular the last two tours and returns this year with the instructional cooking treat Western Spaghetti. This is PES' most complex film to date and an instant classic! Finally we're proud to feature the first commissioned short film from the commercial design team Smith and Foulkes (known for their award winning commercial spots for Coke and Motorola) with the CG tale This Way Up. The piece centers around two undertakers working hard to lay the dead to rest. All of these artists have won huge accolades in the commercial world and we're thrilled to have the opportunity to let them create and develop their own short film projects to share on the big screen.

Like past tours this new program is packed with festival favorites and premieres. This year we're proud to be the first to theatrically share the work of Steve Dildarian (New HBO series THE LIFE AND TIMES OF TIM debuting in September). Another highlight is the collection of films never seen in the US from the prestigious French animation college Gobelins featuring the shorts Burning Safari, Cocotte Minute, Voodoo and Blind Spot. Returning this year are animation greats Bill Plympton with the premiere of Hot Dog, Corky Quakenbush with the irreverent Yompi and Georges Schizgebel's gorgeous Jeu!
Rating:
NR
Genre:
,
Directed By:
Runtime:
Studio:
Critic Reviews for The Animation Show - Year 4
Audience Reviews for The Animation Show - Year 4
½
[center][img]http://laughingsquid.com/wp-content/uploads/the-animation-show-20080630-140522.jpg[/img] [/center] [font=Century Gothic] Last week I was lucky enough to catch a showing of The Animation Show, a "semi-annual touring festival of animated short films" created by Mike Judge and Don Hertzfeldt. I haven't seen the previous three collections, but it's always meant to be a theatrical experience, since there's really no other way to see shorts like this on a big screen where they belong. Unfortunately, my excitement kind of faded when I realized the "screening" was just a DVD projection in a university semiplex, so the quality left something to be desired, and the concept of "seeing it with an audience" was thrown out the window by the fact that it was me and one other dude. It's really a shame that people don't build up an interest in things like this, since there's so few breaths left in the artform as it is. Watching great outsider animation like this is a unique, fascinating experience, though I can't say Vol. 4 was without its flaws. One problem may be that four years into it, there's not as much "classic" material to include, mostly leaving a bunch of stuff you'd expect to find on YouTube. Also, this is the first year without Hertzfeldt as co-curator. Mike Judge is actually one of my idols, but Hertzfeldt is a little more in touch with the fringes of animation as he's one of the only people left making a living for themselves on DIY doodling, whereas Judge has long ago sailed to greener pastures. Plus, it means no original Hertzfeldt material, which can only hurt. Though it's billed a "festival," Vol. 4 is cohesive enough to feel more like an anthology film, and like almost any anthology film, it's extremely hit-and-miss. The entries seem to be primarily chosen for their technical merit over their actual entertainment value or originality, so everything looks pretty great, but a lot of it feels like the story was just an afterthought - a loose vehicle for animation prowess, with some notable exceptions. The overall effect is sort of like a brief check-in with a much bigger universe of filmmaking, like zipping through the canals of independent cartooning to make sure it still exists and still has some talent in the bank, and it clearly does. With all the work put into this stuff, you feel like stamping a hearty "Good Job!" on its chest, but there's nothing as mindblowing as the first time you stumble onto someone like Hertzfeldt, Bakshi, or Plympton, and it seems cruel to say it, but even the best of these have nothing on mainstream giant Pixar. Let's hit 'em up one by one: [b][img]http://www.animationshow.com/i/c/1_tas4_opener.jpg[/img][/b][/font][font=Century Gothic][b][img]http://www.animationshow.com/i/c/1_operator_fpb.jpg[/img][/b][/font] [font=Century Gothic][b] "Show Opener"/"Show Closer" by Joel Trussel - 6/10[/b] Basically just glorified credit work and a mood-setting face to the program, this is a mildly entertaining blast of Flash-style animation that shows a bunch of retirees transformed by rock'n'roll pirates into their own worst nightmares, etc. Fairly obvious "old people goin' crazy" stuff, but it's fun enough, quick and dirty, and gets the job done. [b] "Operator" by Matthew Walker - 5/10[/b] Kind of a strange choice to open with, Operator is pretty reserved as animation goes, staying mostly on one dreary shot while some dry British humor plays out. A guy calls God to ask a silly question, and the credits pretty much roll. Whereas most of the shorts here feel like they were drawn first and written later, Operator just feels like a quick afternoon cartoon to visualize a so-so stand-up routine, though it's short and harmless, and the old "Man Gets an Amazing Opportunity and Totally Wastes It" routine is always pretty funny to me. [b][img]http://www.animationshow.com/i/c/1_psychotown_fpb.jpg[/img][/b][/font][font=Century Gothic][b][img]http://www.animationshow.com/i/c/1_mrschwartzmrhazenmrhorlocker_fpb.jpg[/img][/b][/font] [font=Century Gothic][b] "Psychotown" - 8/10[/b] Made up of three recurring bits throughout the program, Psychotown is definitely one of the highlights. It's a little too close to South Park with its cardboardy animation and abrasive, bizarre humor, but it really made me laugh like an idiot. The "Oranges" episode is the simplest one, really not going beyond the joke of watching a guy get smacked in the face a thousand times, but it's cleverly played out by Australian comedy team The Nice Guys. The "Therapy" episode (I'm just making these names up, by the way) is probably my favorite, a perfectly simple and succint Pythonesque sketch that makes great use of the short format if not the animation. Last but not least is "Coux," a hilariously disturbed militia-themed anti-sitcom that probably shows the most promise for getting this stuff on regular television. [b] "Mr. Schwartz, Mr. Hazen & Mr. Horlocker" by Stefan Muller - 7/10[/b] This is the perfect example of what I mean about the animation taking so much precedence over the actual quality of the film. This is astoundingly good in a technical sense, combining playfully expressionist character designs with kinetic motion, and truly using animation to do things a camera could never do, but it's basically all serving a dopey, acid-fueled comedic concept. The way the visuals feed into the story is pretty clever - fans of Rube Goldberg will get a couple nice surprises - but overall it seems like a slight waste of talent. [b][img]http://www.animationshow.com/i/c/1_angryunpaidhooker_fpb.jpg[/img][/b][/font][font=Century Gothic][b][img]http://www.animationshow.com/i/c/1_blindspot_fpb.jpg[/img][/b][/font] [font=Century Gothic][b] "Angry Unpaid Hooker" by Steve Dildarian - 7/10[/b] Since its inclusion in the "festival," Steve Dildarian's pleasantly shabby-looking short has been developed into a full-tilt HBO sitcom, The Life and Times of Tim. "Angry Unpaid Hooker" is pretty damn funny and wonderfully awkward, but the neurotic hero and squiggle-vision feel a little too close to Dr. Katz with a dash of Curb Your Enthusiasm, and nothing about the short made me want to spend thirty minutes a week with the characters. [b] "Blind Spot," produced at Gobelins - 7/10[/b] A lot like "Mr. Schwartz" above, "Blind Spot" is a nice-looking (though not quite as visually original) comedy of errors with a really funny, dark, and messy setup that the Coen Brothers would surely be proud of. Its Pixar aspirations are maybe a little too obvious, but it's a pretty clever extended gag and a nice use of the medium. [b][img]http://www.animationshow.com/i/c/1_farwest_fpb.jpg[/img][/b][/font][font=Century Gothic][b][img]http://www.animationshow.com/i/c/1_voodoo_fpb.jpg[/img][/b][/font] [font=Century Gothic][b] "Prof. Nieto Show Ep. 1" by Nieto - 2/10[/b] Here's that YouTube feeling I was talking about... this is pretty much just a big dumb joke (bugs playing soccer, whee) executed through some unimpressive CGI. I suspect it was chosen for the semi-creative way it blends in with live-action, but it's nothing that you can't see in, say, the Scooby Doo movie, and it's not funny or interesting enough to belong here. [b] "Voodoo," produced at Gobelins - 7/10[/b] If I understand correctly, Gobelins is a "school of image" in France that produced "Blind Spot" above and the equally entertaining "Voodoo," enough that if I were a young inspiring animator I'd probably start aiming my eyes Frenchward. "Voodoo" features some of the best animation in the program, a crisp and creative mix of 2D and 3D styles that really fucking pops. Like "Blind Spot," it's a pretty forgettable, unambitious story that doesn't accomplish much beyond a couple healthy laughs out of watching murderous tribesman tool around with voodoo dolls. [b][img]http://www.animationshow.com/i/c/1_jeu_fpb.jpg[/img][/b][/font][font=Century Gothic][b][img]http://www.animationshow.com/i/c/1_keylimepie_fpb.jpg[/img][/b][/font] [font=Century Gothic][b] "Jeu" by Georges Schwizgebel - 7/10[/b] This is the sort of thing I'd like to see more of in the show... stuff like Chuck Jones' "The Dot and the Line." No jokes, no characters, just free-form, uninhibited animation designed exclusively for ooh's and ahh's. While it's not the most groundbreaking of its type (I've seen a couple similar things around the Internet lately that make it look practically mainstream), it is a really impressive, dizzying mindfuck that fits the "anything is possible" vibe of the festival better than most anything on the list. [b] "Key Lime Pie" by Trevor Jimenez - 8/10[/b] Another pretty simple and slightly goofy story, this one about a Sam Spade type who flirts Death through a dangerous obession with...uh...key lime pie. The quirky plot makes it sound like a bad Marie Callendar ad, but God, I really enjoyed this one's rich (ha ha) noir-styled visuals and good-natured dark humor. This probably impressed me the most animation-wise. [b][img]http://www.animationshow.com/i/c/1_usavich_fpb.jpg[/img][/b][/font][font=Century Gothic][b][img]http://www.animationshow.com/i/c/1_raymond_fpb.jpg[/img][/b][/font] [font=Century Gothic][b] "Usavich" by Satoshia Tomioka - 5/10[/b] Another of the running bits through the show, and another that I'm not sure why was included. This is the big, puffy CGI that I wish I could never see again, and it's wacky animals to boot. The big, loud, chaotic humor should greatly appeal to kids, but it doesn't fit in at all with the smarter, adult-friendlier material it sits with, and I kind of zoned out each time a new episode came on. [b] "Raymond" by Bif Production - 8/10[/b] My favorite of the festival and the one I would most heartily recommend. More than all the others, this one actually pushes the boundaries of expectations a little more, scanning in full-body portraits to do some wildly impressive man-imation that just gets increasingly bizarre and inspired throughout the short. More importantly, the innovative animation is backed up by a really great idea that actually has a loose point to make even in its five-minute running time. Neat stuff. [b] [img]http://www.animationshow.com/i/c/1_1_western_spaghetti_fpb.jpg[/img][/b][/font][font=Century Gothic][b][img]http://www.animationshow.com/i/c/1_thiswayup_fpb.jpg[/img][/b][/font] [font=Century Gothic][b] "Western Spaghetti" - 7/10[/b] You've probably seen something like this before, where household objects are used to create... well, in this case, other household objects. The candy corn is fire, rubber bands are spaghetti, etc... It's kind of an old trick, but it's so furiously fast and fun here that it's hard to fault it. Very creative, clever, and fun to watch, if a bit useless. [b] "This Way Up" by Smith and Foulkes - 7/10[/b] This one was actually commissioned for the program, and at seven minutes with maybe a bigger budget than the others, it feels a bit more epic, and a bit more likely to see some Oscar attention as I can't imagine anyone not at least sort of enjoying it. Essentially, it's another round of dark humor following two caretakers whose hearse breaks down, causing them to take a long, cumbersome journey where they totally don't take care of what they're caretaking. Pretty standard corpse-as-comedy, but it is pretty lush animation, and there's a few really weird bits that stand out. I haven't laughed at a final freeze frame so much in quite a while, at least not at one that was intentionally funny. [b][img]http://www.animationshow.com/i/c/1_hotdog_fpb.jpg[/img][/b][/font][font=Century Gothic][b][img]http://www.animationshow.com/i/c/1_johnandkaren_fpb.jpg[/img][/b][/font] [font=Century Gothic][b] "Hot Dog" by Bill Plympton - 8/10[/b] Without original material from the two creators, Master Plympton is the ringer here, and he brings the thunder as usual. This is, I think, his third in the "Dog" series and they've been among his very best work, and I'm a big fan of the guy. I thought it was a little weird to do another sequel to his Oscar-winning short, but "Hot Dog" is much more than "Hey, here's this again." It's more frantically beautiful animation, old-school comedy, and jaw-dropping depression from one of the godfathers of contemporary independent animation. One of the more memorable shorts, and would easily be the best if "Raymond" wasn't so damned unique. [b] "John and Karen" by Matthew Walker - 5/10[/b] Another from the creator of "Operator," "John and Karen" is similarly underwhelming and also uses its simplicity and dryness as a crutch for not really having anything interesting to talk about. A polar bear and a penguin have an awkward post-breakup chat that doesn't really ever evolve from the pretty basic joke of "one is big and one is small," but like "Operator," it's a harmless, moderately amusing premise whose biggest crime is being largely forgettable. [b][img]http://www.animationshow.com/i/c/1_yompi_fpb.jpg[/img][/b][/font][font=Century Gothic][b][img]http://www.animationshow.com/i/c/1_lovesportpaintballing_fpb.jpg[/img][/b][/font] [font=Century Gothic][b] "Yompi" by Corky Quackenbush - 2/10[/b] [/font] [font=Century Gothic] The last of the recurring shorts, and the least desirable. Basically, "Yompi" is a series of claymation shorts about a monstrous, baby-faced creature (I believe he's called a "sloup") who bites people's crotches. Man, woman, animal, he'll bite them all. This feels a little bit like anti-programming, just including something intentionally archaic and unimpressive in some sort of punk-rock shruggery, and it only barely works because it's so damn short each time, and claymation always has kind of a hypnotically amateurish quality that's hard to complain about. But by all means, these are terrible, terrible shorts that probably wouldn't be good enough to make the Internet rounds even if they were tagged with Buffy's beautiful breasts. You might think showing it thrice would follow the Comedy Rule of Threes, but no, it never gets funny.[b] "LOVESPORT: Paint Balling" by Grant Orchard - 7/10[/b] I like simple, anyone-could-do-it animation as long as it's used properly, and this is a great example of how to do just that. This is a really basic run'n'gun cartoon like the millions you can find on Newgrounds.com and the like, but its broad anti-war message is actually played out really nicely, and it's impressive how the deceptively lifeless animation starts to become sort of haunting through the animator's wise use of the frame. [b] [img]http://www.notempire.com/images/uploads/burning-safari.jpg[/img][/b][/font][font=Century Gothic][b][img]http://www.animationshow.com/i/c/1_forgetfulness_fpb.jpg[/img][/b][/font] [font=Century Gothic][b] "Burning Safari," produced at Gobelins - 6/10[/b] Another impressive, commercial-friendly piece of animation from the Gobelins school, though this one's a lot broader and cartoonier (and less memorable) than "Blind Spot" or "Voodoo." Hard not to compare it to WALL-E with its little robot hero, and while it lacks all of the heart, it seems like all of these Gobelins guys could put something together for Hollywood that would compete commercially, though not critically, with Disney's favorite hitmakers. [b] "Forgetfulness" by Julian Grey - 4/10[/b] Funny that "Forgetfulness" was the main short that I had to look up to remember what it was. It reminded me a lot of the bland, John Turturro-narrated "The Moon and the Son" short that unfairly won the Oscar in 2006. Both use scratchy paper illustrations to visualize a brief monologue, both are mildly impressive in a Norman Rockwell sort of way, and both are interminably dull. [b][img]http://www.animationshow.com/i/c/1_cocotteminute_fpb.jpg[/img] "Cocotte Minute," produced at Gobelins - 6/10[/b] See "Burning Safari," but replace WALL-E with Ratatouille. I know all of these Gobelins reviews are essentially the same, and they do seem to like their chaotic dark humor over there, but the films are nevertheless some of the most technically advanced on the bill. Overall, these obviously range from quick and pointless to quick and genius, but it definitely adds up to an interesting filmgoing experience, and I wish I had gotten a chance to see the first three lineups on an even bigger, better screen. At the very least, I'm planning on Netflixing all of them soon, and I'm already looking forward to the next collection, though I wish Mike Judge would cut off some of the chaffe. By the way, you can find almost all of these online in various places, but keep in mind that that tiny, foggy YouTube quality really isn't going to do some of this stuff any favors. The DVD should be available soon... [/font]
John Ferrer
The Animation Show - Year 4 Quotes
There are no approved quotes yet for this movie.