The Art of Flight 3D
(2012)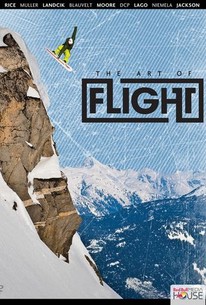 AUDIENCE SCORE
Critic Consensus: No consensus yet.
The Art of Flight 3D Videos
The Art of Flight 3D Photos
Movie Info
Brace yourself for a new breed of action sports films as Red Bull Media House in association with Brain Farm Digital Cinema, present their acclaimed film "The Art of FLIGHT", now in 3D. Converted by Venture 3D, one of Hollywood's leading 3D conversion companies, the feature combines meaningful storytelling and sport progressing action with some of the most captivating 3D visuals to date. The film was shot using state?of?the?art equipment and technologies, much of which was custom designed for this project. The film transcends snowboarding with an inspirational message about adventure and exploration. (c) Official Site
Critic Reviews for The Art of Flight 3D
All Critics (2) | Fresh (1) | Rotten (1)
An aesthetic showcase whose repetitive nature winds up diminishing the excitement of its breathtaking feats of mountainous flight.

The image quality sometimes is misty at best but the pay-off of these stories lies in the fact that they would otherwise have probably remained untold.

Audience Reviews for The Art of Flight 3D
Introduction Art of Flight is about a group of snowboarders, including pro Travis Rice, who travel the world to unique locations looking for the perfect places to try new outrageous tricks Plot Summary Art of Flight had a very original plot. In the movie, they travel to places like Alaska, Chile, and Canada. They travel to Alaska first and can't go boarding right away because the weather isn't snowboarding weather. So to keep from getting bored, they do activities like shooting guns, throwing axes, and making a bonfire. Then the next day they go down the mountains there and do some crazy tricks. They then travel to Chile so the can "follow winter". While there they do insane tricks on some of the steepest slopes. After that they go to Canada and find out that there are a lot of avalanches occurring there. They go to the top of the mountain and are about to go down when a bunch of fog forms and they can't see t a thing so they end up getting stuck. Throughout the movie they show them all doing some super cool end crazy tricks. Documentary Elements I think the theme of this movie is adventure is what you make it. I think this because they somewhat say it throughout and by watching the movie, that is what I got from it. This documentary also had a lot of b-roll along with plenty of interviews. Technical Elements This documentary had some of the most unique camera angles and editing I have ever seen. They had angles with helmet cams, cameras from helicopters, and hand held filming. They also included very engaging music and a lot of slow motion that made the watcher really interested in the movie. Conclusion Many people think that documentaries are very boring but this was one of the coolest movies I have ever seen. I really encourage any one who likes snowboarding or even extreme sports to watch this. Anyone who watches it will really enjoy it I believe. -GU, 8th Grade Student
Skyview Broadcasting
Amidst my disgust at the extravagance of flying around the globe in private planes and helicopters in order to snowboard on mountains, this film is admittedly awash with some downright gorgeous imagery. Not to mention the soundtrack is rather kicking, if I may say so.
Justin Storms
The Art of Flight 3D Quotes
There are no approved quotes yet for this movie.
Discussion Forum
Discuss The Art of Flight 3D on our Movie forum!