The Bad Intentions
(2011)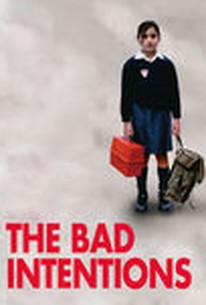 AUDIENCE SCORE
Critic Consensus: No consensus yet.
The Bad Intentions Photos
Movie Info
An eight year old Peruvian girl dreads the impending birth of her younger brother during a time of intense socio-political turmoil in this incisive psychological drama from director Rosario Garcia-Montero. Peru: the early 1980s. Upon learning that her mother Ines will soon give birth to a baby boy, young Cayetana vows that his first day in the world will also be her last. As the months go by and her mother's belly swells, the solemn girl senses death closing in, she begins to fantasize that a trio of national heroes she learned about at school will sweep her out of her home, and away from a country that's on the brink of collapse.
Critic Reviews for The Bad Intentions
There are no critic reviews yet for The Bad Intentions. Keep checking Rotten Tomatoes for updates!
Audience Reviews for The Bad Intentions
The movie tells the story of this girl, with a very overactive imagination, who believes that when her baby brother is born. This movie did absolutely nothing for me, because it's the worst thing a movie can be. No, not bad...although you could make the argument. No, this movie is completely and utterly a chore to watch. I had to watch the movie in two separate days and, to be honest, if I hadn't finished watching it at all, it would not have bothered me because I don't think I would've missed much. And I KNOW I didn't miss anything because I did finish it. Another issue is the pacing of the film. If I hadn't watched this film in two separate nights, I think I would've given this film a much lower rating. Getting through the first hour requires massive levels of concentration. The pacing makes the first hour seem more like three. The second hour of the film is easier to get through, but I imagine that it was mostly because I, again, watched the film in two different nights. If there was a major problem with the film was the story. I simply don't think there was enough interesting material to justify the film being as long as it is. I would say that as far as story progression, the film is fine. The problem is the execution itself leaves a lot to be desired. The most interesting stuff in the movie is the stuff that's implicit, like the terrorist attacks by a communist group. They don't make a big deal out of it, as it's supposed to be metaphorical, but this might've been the best part of the film itself, how they incorporate these attacks into the stories without it feeling forced. There's also these dream sequences with people from Peru's history that could be considered heroes and how Cayetana wishes to be a hero like them and how they way their lives turned out end up affecting her and how she reacts to her new baby brother. The problem is that Cayetana is really, as a character, completely unlikable and, realistically, kind of a bitch. Not to mention the girl that played her, her performances leaves a lot to be desired. Her delivery is awful. She simply doesn't have the skills to play, what should've been, a complex character. Never at any point do you see this girl as anything but a bitch. And that's unfortunate, because I think the character could've been good with a better actress. I did like that this girl had a cold and detached demeanor about her, but that's about it. Her delivery is terrible and she completely drags this movie down. The story is aimless and rarely goes anywhere, so you add that on top of the terrible acting from the main actress and the awful pacing, I'm probably being very considerate in giving it 2 stars. I will admit that the film get better as it reached its climax, but by that point it's really too late. The movie has its funny lines and everything, but you could miss about 80% of this film and you'd still get the gist of the story from the other 20%. So that makes it hard to justify, in my mind, the length of the film. I really don't recommend watching this movie in one sitting because you will die of boredom, at least I almost did. Good idea, terrible execution.
Jesse Ortega
Super Reviewer
The Bad Intentions Quotes
There are no approved quotes yet for this movie.
Discussion Forum
Discuss The Bad Intentions on our Movie forum!