The Barrens
(2012)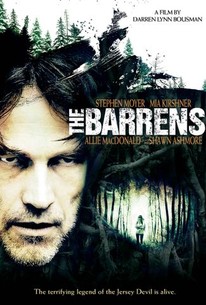 AUDIENCE SCORE
Critic Consensus: No consensus yet.
Movie Info
It's known as the Jersey Devil, the winged beast spawned 400 years ago by Satan himself. Some say this creature still inhabits the dense pine forests of southern New Jersey, where Richard Vineyard (Moyer) takes his family for a rustic weekend camping trip. As the Vineyard family ventures further into the woods in search of the perfect campsite, Richard teeters on the edge of sanity. Welcome to a new kind of horror that lives - and kills - in a place called The Barrens. -- (C) Anchor
Rating:
R (for violence and language)
Genre:
Directed By:
Written By:
In Theaters:
On DVD:
Runtime:
Studio:
Critic Reviews for The Barrens
All Critics (3) | Fresh (2) | Rotten (1) | DVD (1)
There are definitely some worthwhile ideas and components here. They're just trapped in a film that can't afford them.

Bousman doesn't have the vision to hoist the horror up high, settling on a mundane camping thriller only sporadically enlivened by mysterious violence.

[Bousman fans:] It's not quite up to Saw and Mother's Day levels in gut wrenching horror, but The Barrens is a good mix of supernatural and visceral.

Audience Reviews for The Barrens
½
The Barrens is a horror that thinks it's a drama. A family of four head into the New Jersey forest, and run into a monster from the American folk legend: The Jersey Devil. It touches on some satanic plot devices, bad witch stories from the Salem days, and kids telling campfires stories about garbage they read online. Normally I wouldn't trash a movie for trying (and this one certainly does), but the problem with this film is that it's SO badly acted. The father, played by Stephen Moyer (of True Blood fame) is the only actor with any real experience. Sadly he doesn't bring any of that to this film. He starts as a distant, derelict, and somewhat dead-beat father, trying to reconnect with his son and daughter, and quickly devolves into a madhouse drunkard possessed by abstract visions and nightmares. He never once comes across as father, and acts like a genuine jackass throughout the movie. His new wife doesn't do a very good job at being amicable but the children... my god these two kids are the most annoying poorly devised children you've ever seen. They are what baby-boomers must think Millennials must speak like. The dialogue that is regurgitated out of their mouths, makes one gag at the very thought that someone put pen to paper and devised this film. Every second on screen is an agonizing display of ineptitude, that makes you weep for the future generations of young actors. I never once felt like they were a family, nobody showed any genuine affection or love towards each other, and every scene is a lost opportunity to make a genuine film. The most effort they put into it was with the monster, which sadly remains elusive throughout the film until the very ending. It almost makes it worthwhile until the screen lingers just a little too long and you can see the seems that connect the cowl to the rest of the body. Nothing makes up for the clumsy acting and direction of this film, and you shouldn't bother. Badly Acted Drivel. 1.5/5
Kevin Davies
It's clearly visible through its poor cinematography and script that The Barrens is a low budget movie. Yet there is still some good horror elements and scares to make it suspenseful and enjoyable.
Farah Rizq
Stephen Moyer(Bill from "True Blood") stars here as a father who wants to go on a family camping trip in New Jersey to spread his fathers ashes, and hopefully get closer to his family as they continue to grow apart. When they arrive at the woods weird things begin to happen, and he becomes distant and psychotic. Is it him? Or is it the New Jersey Devil, a bigfoot like myth that may or may not be true. Part psychological thriller and part monster movie, "The Barrens" is entertaining, yet not a very good movie either. It has it's moments, and I'd say it has more going for it than against, but something about it just didn't click with me. "The Devil" looks neat, but I've seen much better creatures in these type of movies. The acting is just OK, and the gore is good, but it never had me fully engaged like this movie hopes the viewer to be. If your into horror, then give it a chance because it may work more for you than me. Otherwise, I'd say just find something else at Redbox(where I got it), because there is a lot better out there.
Everett Johnson
Super Reviewer
Discussion Forum
Discuss The Barrens on our Movie forum!