The Bat People
(1974)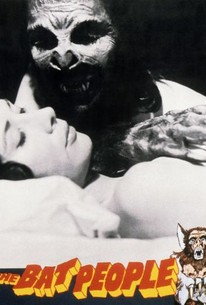 AUDIENCE SCORE
Critic Consensus: No consensus yet.
Movie Info
A scientist is bitten by a rabid vampire bat while honeymooning in the desert, thereby transforming him into a vampire-like creature (well, really more of a "were-bat") and forcing him to go out on nightly blood-drinking binges. He eventually puts the bite on his bride, and she undergoes a similar transformation. Originally released as It Lives By Night, The Bat People features special effects work from the pioneering Stan Winston.
Critic Reviews for The Bat People
There are no critic reviews yet for The Bat People. Keep checking Rotten Tomatoes for updates!
Audience Reviews for The Bat People
½
The Bat People (Jerry Jameson, 1974) In the days before direct-to-video, you'd be surprised at the things that found their way to movie screens. If you were born after about 1984, when the VHS player explosion happened and DTV started becoming standard for low- and no-budget movies, it's possible you may not have any concept of this sort of thing. Hell, I was there and I find myself still surprised on a regular basis by some of what found its way onto the big screen between the formation of the MPAA and the proliferation of the VHS player. There are few examples of this that will provide you as much evidence for the lack of judgment of film distribution companies as The Bat People, Jerry Jameson's 1974 cheesefest about werebats. That's right, werebats. Dr. John Beck (Raise the Titanic's Stewart Moss) and his wife Cathy (Hello, Dolly!'s Marianne McAndrew) are on vacation in the American southwest. Everything is going along swimmingly until, while caving, John is bitten by a bat. Much to his wife's chagrin, he starts experiencing bat-like qualities. Can she and a local doctor (Blood: The Last Vampire's Paul Carr) find a way to reverse the process before it's too late? Everything you would expect from the lowest no-budget fifties Z-movie crapfest is here. Problem is, the movie was made in 1974. This is not to say the Z-grade creature feature had entirely died out by the early seventies, but the genre had at least gotten a little cachet when George Romero proved you could take a minuscule budget and non-actors and come up with a movie like Night of the Living Dead. Problem is, not everyone was George Romero. Sometimes even George Romero wasn't George Romero. (Between Night of the Living Dead and 1974, Romero would release his two greatest commercial failures, 1971's There's Always Vanilla and 1972's Jack's Wife.) Jerry Jameson? He wasn't even in the same zip code. As of this writing, Jameson has not attempted to direct another horror film. This was, I believe, a very good decision. * ½
Robert Beveridge
Excellent film to watch on MST3K, otherwise it's boring. The story isn't so great, and the monster is ok, but the effects were nice and was Stan Winston's first film to use his effects.
Wes Shad
This is an okay monster/scientist movie, it's actually pretty good most of the time, and I liked the end, but it could have done a lot more with the story than it did, and it could have have better actors and script. Overall, it's pretty good, though.
The Bat People Quotes
There are no approved quotes yet for this movie.
Discussion Forum
Discuss The Bat People on our Movie forum!