The Battery
(2014)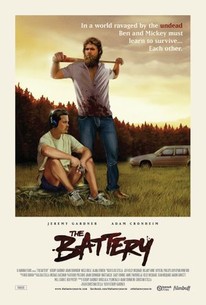 Movie Info
Zombies. Baseball. Road Trip. What more do you need? A FilmBuff Presentation.
Critic Reviews for The Battery
Audience Reviews for The Battery
Wanted to like this little indie zombie apocalypse that focuses more on the strain of simply surviving rather than horror ...but it doesn't really go anywhere.
Kevin M. Williams
Super Reviewer
What makes this independent zombie flick stand out from any others. Firstly it features proper Romero zombies instead of the tedious sprinters that seem to be in the same category. Secondly they is little focus on constant violence and instead focuses on the development of Ben and Mickey. Both Gardner and Croheim superbly create very contrasting characters as the former loves the freedom in this new world whilst the latter wants life back the way it was. Occasionally intense and funny, The Battery has been one of the better zombie movies to come about in recent years.
Samuel Riley
Super Reviewer
This drama-horror-comedy is a directorial debut of Jeremy Gardner. The film stars Gardner and co-producer Adam Cronheim as two former baseball players trying to survive a zombie apocalypse. I can see faces griming but this was recommended to me by a RT friend who mentioned that the film has won audience awards at several international film festivals. The story was just a background for a friendship relationship exploration. Post-apocalyptic events are showing us a zombie takeover of the entire New England area, where two former baseball players, Ben (Jeremy Gardner) and Mickey (Adam Cronheim), travel the back-roads of Connecticut with no destination in mind. We will find out later that they were trapped in a house in Massachusetts, along with Mickey's family, for three months. Mickey's father, mother and brother were killed before they figured out how to escape. Since then, Ben opposes sleeping indoors and the two have had many arguments regarding the matter. While Ben quickly adapts to the "hunter-gatherer" and constantly on the road lifestyle, Mickey is the opposite, and yearning for a "normal" life. He refuses to kill zombies and learn to fish, and finds a safe haven listening to his CD player with headphones on, wasting batteries and distracting himself from his surroundings... There were very interesting scenes in this movie, and Gardner is definitely a talented director, but the facts that the film costs were $6,000 to make and that was shot in 15 days in Connecticut, were obvious. The scenes were not planned in advance, and director Jeremy Gardner described it as "very seat-of-the pants", thinking that is probably "cool", but I do not think so. The movie gave me a feeling of a short film (about 30 minutes) extended to a feature film... I could not believe the scenes in the car at the end... same things going over and over and over... annoying and useless! If you like watching middle aged man masturbating looking at zombie tits, long annoying claustrophobic situations with a screenplay which obviously had only suggestions, not the actual text with lines packaged in a cheap box with ribbon, but with tasty directing, solid editing and average camera work, and some acting which could pass as adorable - check it out... or it is perfect for people who just want to see something different!
The Battery Quotes
There are no approved quotes yet for this movie.