The Battle of San Pietro
(1945)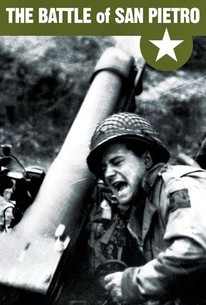 AUDIENCE SCORE
Critic Consensus: No consensus yet.
The Battle of San Pietro Photos
Movie Info
The Battle of San Pietro was Hollywood filmmaker John Huston's first effort for the U.S. War Department. Scripted by British novelist Eric Ambler, the film, largely comprised of on-the-spot combat footage, concentrates on a grueling battle in the Italian stronghold of San Pietro. The Germans, making full use of the town's natural fortifications, dug in and began defending their position by slaughtering hundreds of Allied troops. The 143rd infantry regiment lost 12 of its 16 tanks in the bloody battle. Huston and Ambler concentrate on the men of the 143rd, sparing the audience nothing in showing the bodies of the victims, intercut with shots of those same unfortunates, grinning and gabbing in the hours before their deaths. The filmmakers fully intended Battle of San Pietro as an anti-war film, but the military brass, concerned that the relatives of the dead soldiers would be subject to undue agony by so uncompromising a film, demanded that the picture be recut, toning down the stench of death and emphasizing the resilience of those who survived. Even in its truncated form, The Battle of San Pietro was strong stuff for a home-front audience weaned on the optimistic propaganda dispensed by newsreels and fictional Hollywood war pictures.
Audience Reviews for The Battle of San Pietro
John Huston probably captured the true cost of War in his WWII films more than the other filmmakers recruited for propaganda at the time. With "Let There Be Light" he showcased the mental strain soldiers got under the pressure of war, with this he shows a specific battle and the death that came with it. It feels more real than Capra's "Why We Fight" series, because it isn't as sanitized. A good document of the cost of that war from a contemporary source.
Ken Scheck
An early and unflinching war documentary on a minor but bloody battle fought in Italy in 1943. The realism is balanced with a deserved sense of hope.
Sean Chick
½
I couldn't understand the narration, the audio quality on my VHS copy bought used from a library was not great, but that's what I get for not noticing this is in the National Film Archive or something for free anyway. The picture quality remained intact, though, and the visuals are astounding.
Andy Cramer
The Battle of San Pietro Quotes
There are no approved quotes yet for this movie.
Discussion Forum
Discuss The Battle of San Pietro on our Movie forum!