The Beast With Five Fingers
(1946)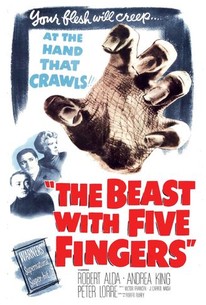 The Beast With Five Fingers Photos
Movie Info
When a concert pianist dies without recognizing his personal secretary in his will, the secretary chops off one of the corpse's hands and begins to plot revenge. Things get more complicated, however, when the disembodied hand takes on a life of its own in this renowned early horror film.
Critic Reviews for The Beast With Five Fingers
Audience Reviews for The Beast With Five Fingers
A film biggest challenge is it ability to stand the test of times which is why even decades later we are still watching Charlie Chaplin comedies and many films made several decades ago. Unfortunately that is not case for "The Beast With Fingers" when even it title sounds cheesy. This film might have scared movie goers back in the day when it was release, but today it would make movie goers laugh. The Beast With Five Fingers takes place in an Italian village where the locals believe evil has taken over the estate of a recently deceased pianist where several murders have taken place. The alleged killer: is someone with five fingers. That plot synopsis is pretty much what makes up 80% percent of the movie. It's clear who the killer is, but I have to admit the writing kept things interesting enough to keep my attention. The characters are interesting and the effects on the moving severed hand look shockingly real. The effects do not look dated at all. To bad everything else did not aged as well. For starter the acting tends to be cheesy, especially Peter Lorre who outshines everyone in that category. He gives over the top facial expression and his line delivery are unintentionally funny. The best way to describe Peter Lorre acting is trying to imagine Matthew Broderick in cheesy horror role: unintentionally funny, but charming at the same time. The music is does add to the atmosphere, though it's about as generic as a horror music can get. The last twenty is where it becomes very slow with an ending that feels it came from a cartoon. It hasn't aged well as some other movies, but it wasn't bad as I expected. The Beast With Five Fingers is not a well aged horror movie, but it was a good enough experience to a sixty. If you're a fan of cheesy horror movie than this one might do the trick even if the last twenty minutes are not as strong. For everyone else, look elsewhere for your scares.
Caesar Mendez
Super Reviewer
½
Not a fantastic piece of work, but well-written and interesting. Peter Lorre is, of course, the reason to watch the movie - although the ending was really silly and definitely felt tacked on.
Tim Salmons
Super Reviewer
The top of the crawling, severed hand genre.
Anthony Valletta
Super Reviewer
The Beast With Five Fingers Quotes
There are no approved quotes yet for this movie.