The Big Fix
(2011)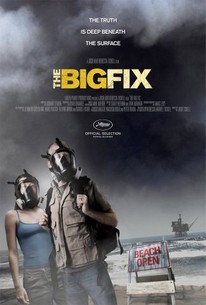 Movie Info
On April 22, 2010 the Deepwater Horizon offshore drilling rig run by BP sunk into the Gulf of Mexico creating the worst oil spill in history. Until the oil well was killed on September 19, 779,037,744 liters of crude oil and over 7,000,000 liters of chemical dispersant spread into the sea. By exposing the root causes of the spill filmmakers Josh and Rebecca Tickell uncover a vast network of corruption. The Big Fix is a damning indictment of a system of government led by a powerful and secretive oligarchy that puts the pursuit of profit over all other human and environmental needs. -- (C) Official Site
Rating:
NR
Genre:
,
Directed By:
Written By:
In Theaters:
On DVD:
Runtime:
Studio:
Critic Reviews for The Big Fix
Audience Reviews for The Big Fix
½
We're all products of an environment. The Big Fix is a documentary filmed by a Louisiana film maker about the state of the Gulf of Mexico in his home state. He tells the tale of the history of big oil in Louisiana and the evolution of the industry to the corrupt, conniving, and thieving industry it is now. "His last words were, don't let me die, I've got so much to do." Joshua Tickell, director of Fields of Fuel, Fuel, Freedom, Pump, and the upcoming Good Fortune, delivers Big Fix. The storyline for this documentary is entertaining but fairly straightforward in terms of how they covered the topic. The film does a good job of making the story current and depicting the evolution of the industry, but I wouldn't say there is anything surprising in this film. "They then thought they could purchase a branch of the military." I came across this film on Netflix and decided to give it a shot because it has received such positive reviews. I will say I found the film entertaining and potentially a step down from a similar picture, Grizzly Man. Overall, this is a documentary worth watching but far from a classic or must own. "Black gold in the water." Grade: C+/B- (6.5)
Kevin Robbins
A very well done documentary not only about the BP oil spill but the lasting results and facts about it that is pretty shocking....
Phantasm GhostWriter
"The Bix Fix" really starts with the day BP told us the Macondo Well was no longer leaking oil. It was only then that the real suffering, and the real lying began. This film is very well made, and is filled with new information that shows our government and media failed us. "Inside Job" was great, but anyone who had been following the news didn't learn anything new. "The Big Fix" shocks us with new information, and throws the curtains open wide on a play that is still being acted out by the oil industry and our government.
Jim guy
The Big Fix Quotes
There are no approved quotes yet for this movie.