The Big I Am
(2010)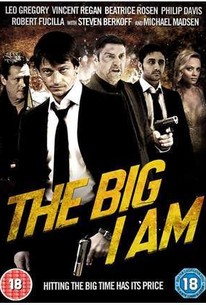 AUDIENCE SCORE
Critic Consensus: No consensus yet.
Movie Info
A low-level thief becomes caught up in a vicious turf war after inexplicably being promoted to leader of a prominent crime family. Leo Gregory, Vincent Regan, and Michael Madsen star.
Critic Reviews for The Big I Am
There are no critic reviews yet for The Big I Am. Keep checking Rotten Tomatoes for updates!
Audience Reviews for The Big I Am
Ungodly boring. The acting was fine but the movie itself was just so generic and hard to follow, and tried really hard to be something that it isn't. This is a good example of a movie that thinks it's so cool by saying words like "Fuck" and "Cunt" repeatedly. I felt like I was watching one of Brad Jones' movies 85% of the time, but at least Brad Jones knew that his movies were shit, this movie is just shit without even knowing that it's shit. They say the word "Cunt" so many times in this thing, it was like some high school rebel wrote the script while watching Reservoir Dogs and having his slutty girlfriend whisper dirty words in his ear. Cocky Bastard. The plot is...........I have no idea. So much stuff was happening all at once that I could hardly even tell what was going on. It also doesn't help that all the actors have such thick accents that I have a hard time even making out what there saying. I was totally lost from beginning to end which basically means that this movie made absolutely no sense to me. The kills I want to say were some of the more redeeming factors of the movie, but it's too bad that we never get to see any of them. Every time someone gets shot or stabbed or there ear bitten off, it's always edited to where all you see is the after effects of whats just happened. It's hard to explain but just trust me, it's bad. Overall, The Big I am is a boring, messy, confusing, immature waste of what is actually a cast of talented actors. Michael Madsen was cool as always but I just didn't care. I was bored and I just wanted it to end so that I could do something more worthy of my time. Avoid this movie. Not good.
Ken Cruiser
I went in hoping this movie would be something like a Guy Ritchie flick, what with its focus on the British criminal underworld. My mistake. This is the kind of film you watch when you're bored out of your skull and having NOTHING better to do, which, funny enough, is why I watched this film in the first place.
Remi Logan
Super Reviewer
The Big I Am Quotes
There are no approved quotes yet for this movie.
Discussion Forum
Discuss The Big I Am on our Movie forum!