The Big Parade
(1925)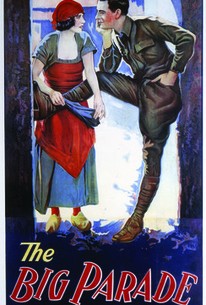 Movie Info
Rich, clean-cut American hero John Gilbert plunges into World War I and some of the most emotionally shattering battle scenes ever filmed.
Critic Reviews for The Big Parade
Audience Reviews for The Big Parade
½
King Vidor's "The Big Parade" is the biggest blockbuster from the silent era, and became the gold standard to which all others were compared well into the 1930s. The story focuses on three American doughboys, fighting in Europe during WWI. Two are working class; a tobacco spitting riveter, Slim, a barkeep, Bull, and a ne'er-do-well son of wealth, Jim, who was shamed into enlisting by his family. These three go through the hardships of military training together, bond, and become fast friends. Their friendships deepen after they are shipped to France where Jim falls in love with a French farm girl. This comprises the first half of the 2 1/2 hour movie. The second half of the movie is the gritty reality of trench warfare. Some say that this is one of the first big-budget anti-war movies. I'd take issue with that, but the film does show the human cost of war without condemning it outright. Remember that WWI was 'the war to end all wars', and in 1925 this was still a possibility. But "The Big Parade" does take an unflinching look at the affect of war on both combatants and non-combatants. The performances and direction are excellent and silent or not, this is a movie well worth seeing.
Jonathan Hutchings
Super Reviewer
½
it seems i watched nothing but silent films this week but this was among the best i have ever seen. king vidor's meditation on a young man's coming of age in the first world war holds up marvelously well. the first half is funny and romantic, with a good performance by john gilbert sans mustache. the scene where he takes leave of his french sweetheart had me laughing and crying simultaneously, not an experience i remember having before. the second half features some of the most poetic (anti) war footage ever filmed. i wonder what happened to vidor, such a master of the silents, whose career was never more than mediocre in the sound era. like 'the crowd' this is still not on dvd but absolutely worth seeking out. it turns up on tcm now and again. what a shame about that poster :(
Stella Dallas
Super Reviewer
Quite liked it. The first half was better than the latter. It didn't feel as messy as most silents do. I was also impressed at how realistic it was. Especially for it's time.
Lauren Donis
Super Reviewer
The Big Parade Quotes
There are no approved quotes yet for this movie.
Discussion Forum
Discuss The Big Parade on our Movie forum!